Syria jets bomb rebel strongholds in Damascus and north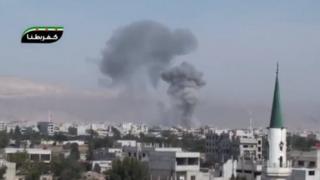 Government warplanes are bombarding opposition strongholds around Damascus and in the north, activists say.
Outside the capital, jets carried out strikes in the eastern Ghouta, in Syria's second city, Aleppo, and in Maarat al-Numan, in Idlib province.
A bomb also exploded near a Shia shrine south of Damascus, causing casualties.
Meanwhile, UN envoy Lakhdar Brahimi has urged China's leaders to help end the violence following the failure of his Eid al-Adha ceasefire initiative.
Before attending talks in Beijing with Foreign Minister Yang Jiechi, Mr Brahimi said he hoped China could "play an active role in solving the events in Syria".
Afterwards, the official Xinhua news agency said Mr Yang had explained the Chinese government's new four-point proposal for a political resolution to the conflict, without giving any further details.
The minister also urged all parties in Syria to stop fighting and begin a political transition as soon as possible, it added.
China and Russia have vetoed resolutions at the UN Security Council seeking to pressure President Bashar al-Assad to end the conflict.
On Monday, Mr Brahimi met Russian Foreign Minister Sergei Lavrov in Moscow and described the conflict as "bad and getting worse".
The Algerian diplomat had hoped the truce over Eid al-Adha, an Islamic holiday which ran from Friday to Monday, would allow a political process to develop and lead to a permanent end to hostilities. However, more than 400 people were killed over the four days in clashes across the country, according to activists.
Bakery hit
The Local Co-ordination Committees (LCC), an opposition activist network, said at least 67 people had been killed nationwide on Wednesday, including 37 in Aleppo and 17 in Damascus.
The Syrian Observatory for Human Rights (SOHR), a UK-based activist group, said jets had carried out several strikes in the eastern Ghouta, a rural area that rings the capital.
A video posted online by activists in Kafr Batna, a south-eastern suburb, appeared to show smoke rising from buildings as jets roared overhead.
There were also air strikes on Wednesday morning in Maarat al-Numan, which straddles the Damascus-Aleppo motorway and has been under bombardment by government forces since it fell to rebels on 10 October.
Activists reported that at least six people were killed when a bakery was hit by an air strike at al-Atareb, in Aleppo province. They posted video showing a huge crater, and a badly damaged building with sacks of flour in evidence.
In Aleppo itself, two children and a woman were said to have been killed when government shelling hit another bakery.
In the past few weeks, the military has stepped up the use of warplanes where ground forces have not been able to dislodge rebel fighters.
Sectarian sentiment
At least seven people were also killed on Wednesday when a bomb exploded near the Shia shrine of Sayyida Zainab, to the south of Damascus, activists said.
State media said the bomb was hidden in a rubbish bag planted in a busy street near the shrine. One activists group said the blast came came from a motorbike rigged with explosives.
The BBC's Jim Muir in Beirut says the Sayyida Zainab shrine is an important site for Shia pilgrimage and represents a sensitive target, given the currents of sectarian sentiment currently running through the conflict.
The SOHR also said more than 36,000 people - among them 25,667 civilians, 9,044 security forces personnel and 1,296 rebel fighters - had now been killed since protests against Mr Assad erupted in March 2011.
The SOHR is one of the most prominent organisations documenting and reporting incidents and casualties in the Syrian conflict. The group says its reports are impartial, though its information cannot be verified.