Violence ends Israel-Gaza truce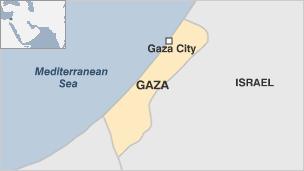 Militants in Gaza have fired 26 rockets into Israel, officials say, amid a flare-up in fighting which shattered a brief ceasefire between the two sides.
No injuries were reported from the barrage, in the south of the country.
It came hours after Israeli aircraft hit targets in Gaza, after militants fired rockets following the killing by Israel of a Gazan who Israel said fired mortars at its troops.
An Egyptian-brokered truce had calmed cross-border fighting since Thursday.
Last week, six militants were killed by Israeli air strikes on the Hamas-run territory amid some of the heaviest rocket-fire against Israel from Gaza for months. Four Israeli civilians were wounded in the attacks and a soldier was severely injured by a roadside bomb on the Gaza border.
Israel said seven rockets were fired into Israel on Sunday.
"In response to the incessant rocket fire at southern Israel, IAF [Israeli Air Force] aircraft targeted a rocket launching site and a terror activity site in the northern Gaza Strip as well as a terror activity site in the southern Gaza Strip," the military said on Monday.
The militant who died in the air strike near the southern town of Khan Younis on Sunday morning belonged to the Izzedine al-Qassam Brigades, the armed wing of Hamas.
Hamas militants have been behind most of the recent rocket attacks, which have largely been carried out by smaller factions over the past months. Israel says it holds Hamas responsible for all attacks from its territory.