Syria rebels 'advance in Aleppo'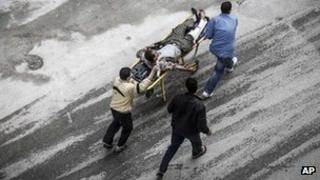 Syrian rebels have made advances into several central neighbourhoods in the city of Aleppo, activists say.
Reports said rebel fighters had moved into Christian areas just north of the centre as government troops withdrew.
The news came as Syria's government was due to give its reaction to a ceasefire proposed for this weekend's Eid al-Adha holiday by UN envoy Lakhdar Brahimi.
Mr Brahimi said most opposition groups would back the truce. Syria's foreign ministry said it was studying the plan.
Meanwhile, an expanded team of UN human rights investigators is seeking a meeting with Mr Assad in order to press for access to the country.
The investigators, who met in Geneva, said they expected their request to be granted.
Carla del Ponte, a former UN prosecutor who recently joined the commission, said she would investigate war crimes and crimes against humanity.
"My principal task will be to continue the investigation... and to determine the high-ranking political and military figures [responsible for] these crimes," she told reporters.
She urged the UN Security Council to refer the case to the International Criminal Court.
The uprising against President Bashar al-Assad's government began in March 2011.
Activists say more than 30,000 people have been killed since then. The UN estimates that at least 20,000 have died.
'No qualms'
Aleppo, Syria largest city, has become a key battleground in recent months.
Eyewitnesses and activists in the city said government forces had moved out of military posts in two Christian districts and a neighbouring Kurdish area, allowing rebel fighters to move in - though there were reports of continuing fighting.
Mr Brahimi announced progress on the ceasefire plan on Wednesday in Cairo. He briefed the UN Security Council by video link and received its backing.
Russia and China, which have repeatedly vetoed UN Security Council resolutions condemning Mr Assad's government for its role in the conflict, expressed their support.
Russia's Deputy Foreign Minister Gennady Gatilov said on Twitter on Thursday that it was "important that the armed opposition in Syria should observe the 'holiday ceasefire'", which "could subsequently be extended for a few more days".
Russian diplomats said they had "indications" that Damascus would approve the plan.
Chinese foreign ministry spokesman Hong Lei said: "We hope that all the relevant parties in Syria can take a sincere attitude and concrete action to support and co-operate with UN envoy Brahimi's proposal and his mediation efforts."
Inside Syria, the main armed rebel group, the Free Syrian Army (FSA), has said any ceasefire observed by the government will be reciprocated.
The al-Nusra Front, a militant Islamist group that says it has carried out several high-profile bomb attacks, said it would not be tricked into playing "filthy games".
On Thursday, Moaz al-Shami, an opposition activist in Damascus told Reuters news agency: "No-one is taking the ceasefire seriously.
"How can there be a ceasefire with tanks roaming the streets, roadblocks every few hundred metres and the army having no qualms about hitting civilian neighbourhoods with heavy artillery?"
Mr Brahimi has travelled across the Middle East over the past two weeks to promote his plan to use a ceasefire to kick start a political process.
Earlier this week the UN's head of peacekeeping operations, Herve Ladsous, said he had started to make plans to send an observer force to Syria, should a lasting ceasefire be agreed.
A ceasefire negotiated in April by Mr Brahimi's predecessor, Kofi Annan, broke down within days despite the presence of unarmed UN monitors.
The short-lived truce was followed by a dramatic escalation in the conflict.
According to Islamic tradition, Eid al-Adha, the Festival of the Sacrifice, commemorates the willingness of Abraham to sacrifice his son Ishmael as proof of obedience to God.