'Al-Qaeda's Said al-Shihri' denies death reports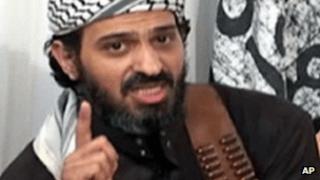 A man claiming to be Said al-Shihri, described as the second-in-command of al-Qaeda in the Arabian Peninsula (AQAP), has released an audio tape denying he was killed last month.
In a message posted on militant websites, he said the reports had been fabricated to conceal civilian deaths.
A spokesman for the Yemeni prime minister said the tape seemed authentic.
If true, it would be the second time reports of his death have proved premature.
In 2011, al-Shihri was said to have been killed in a drone attack, but that claim was later withdrawn.
Doubts
On 10 September, Yemeni security sources told the BBC he had been killed in an air raid in the east of the country.
But a week after the strike, Saudi Interior Minister Prince Ahmed said that the kingdom had not been able to confirm his death.
Rajeh Bady, the media adviser to Yemeni Prime Minister Mohammed Basindwa said on Monday: "From the start we had doubts that al-Shihri was killed and we became sure later on that he was still alive."
The US has labelled AQAP the most dangerous branch of al-Qaeda.
AQAP was formed in January 2009 by a merger between two regional offshoots of the international Islamist militant network in Yemen and Saudi Arabia.
It is now led by Nasser Abdul Karim al-Wuhayshi, a former personal assistant to Osama Bin Laden in Afghanistan.
Al-Wuhayshi took over after two earlier leaders, Khaled Ali Hajj and Abdul Aziz al-Muqrin, were killed by Saudi security forces.
The group has claimed responsibility for a number of attacks and has been blamed by US President Barack Obama for attempting to blow up a US passenger jet as it flew into Detroit in December 2009.