Gaza militants killed in strikes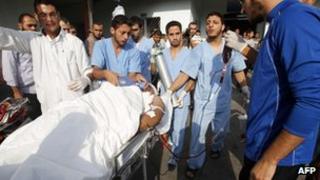 Two Palestinian militants have been killed in Israeli air strikes on the northern Gaza Strip, officials say.
The Israeli military said it targeted the militants after they fired mortars at an Israeli ground patrol. Local sources said the patrol had entered Gaza near the town of Beit Hanoun.
One of the dead militants was a member of Hamas and the other was from the Popular Resistance Committees (PRC).
There have been frequent incidents of cross-border violence in recent weeks.
The Israeli military said three rockets had been fired from Gaza into southern Israel earlier on Monday. There were no reports of any injuries or damage.
Militant factions other than Hamas have carried out a lot of the recent rocket attacks against Israel, although Hamas' armed wing was involved in firing a barrage of mortars and rockets earlier this month.
Israel has said it holds Hamas, which governs Gaza, responsible for all attacks emanating from the coastal territory.
The latest flare-up comes a day before the emir of Qatar is due to visit Gaza - the first head of state to do so since Hamas came to power there in 2007.