Peace envoy Brahimi begins ceasefire talks in Syria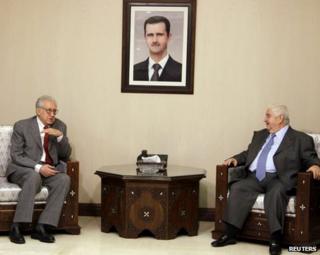 International peace envoy Lakhdar Brahimi has begun talks with the Syrian government on a ceasefire as fighting continues to rage.
Mr Brahimi, who represents the UN and the Arab League, met Foreign Minister Walid Muallem at the foreign ministry in the capital, Damascus.
He hopes to secure a truce between the government and rebel forces next week, for the Muslim festival of Eid al-Adha.
Shelling could be heard in the suburbs of Damascus early on Saturday.
Fighting also raged in the northern town of Harem, on the border with Turkey.
Civilians in Syria are desperate for a ceasefire but many doubt President Bashar al-Assad's forces will agree, the BBC's Lina Sinjab reports from the city.
A ceasefire that started on 12 April was soon broken and more violence prevailed.
Gunfire
Mr Brahimi is also expected to meet President Assad during the visit.
A Reuters news agency crew on the Turkish side of the border witnessed fighting in Harem on Saturday morning.
Smoke could be seen billowing into the air and sustained gunfire could be heard.
Fighting in northern Syria has focused on the town of Maaret al-Numan, which has been in rebel hands for more than a week.
It is seen as strategically important to maintaining a supply route between Syria's largest city Aleppo and the capital Damascus.
More air strikes were reported on Friday as government forces attempted to wrest back control.
For much of the past 18 months, rebel groups have been fighting against Mr Assad's government and at least 30,000 people are believed to have been killed.
Repeated efforts by the international community to find a diplomatic solution have foundered because of a deep divide at the UN Security Council.
In videos posted online, one rebel group said it was willing to respect a ceasefire given certain conditions, while other groups have not made a decision.