Brahimi lands in Damascus to push Syria ceasefire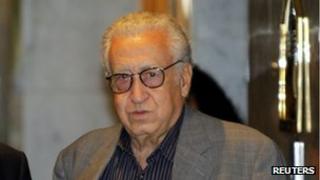 UN and Arab League peace envoy Lakhdar Brahimi has arrived in Damascus to press for a ceasefire in the Syrian conflict, amid continued fighting.
Mr Brahimi will meet foreign minister Walid al-Moualem on Saturday in a bid to secure a truce between the government and rebel forces next week.
Meanwhile air strikes are continuing in strategic rebel-held city of Maaret al-Numan in northern Syria.
The city stands on the main road link between Damascus and Aleppo.
Military jets continued to attack the city on Friday, activists said, after air strikes on Wednesday and Thursday left dozens dead.
On his arrival at Damascus airport Mr Brahimi told reporters it was "important to decrease the violence", and would talk about a possible ceasefire with Syrian officials, as well as "the Syrian issue in general".
He is expected to meet President Bashar al-Assad during the visit.
Mr Brahimi is calling for temporary ceasefire over the three-day Muslim festival of Eid al-Adha. The proposal has attracted growing international support, including from Mr Assad's main supporter Iran.
Turkish foreign minister Ahmet Davutoglu also urged both sides to end hostilities.
"It is especially important for the Syrian regime, which has launched bombs on its people with planes and helicopters, to halt these attacks immediately and without preconditions," he said.
There is widespread scepticism that such a ceasefire will come in to effect.
Previous ceasefires have been ignored by both sides and the Syrian government has said that agreeing a truce is impossible without a unified rebel command to negotiate with.
In videos posted online, one rebel group said it was willing to respect a ceasefire given certain conditions, while other groups have not made a decision.
Mr Assad's army appeared to continue in its attacks in northern Syria, focusing on Maaret al-Numan, which has been in rebel hands for more than a week.
The Syrian Observatory for Human Rights said there were more air strikes on Friday, as government forces attempt to wrestle back control of the city.
It is seen as strategically important to maintaining a supply route between Syria's largest city Aleppo and the capital Damascus.
A correspondent for the AFP news agency inside Maaret al-Numan reported being shown evidence of cluster bombs being used in the air strikes.
The Syrian army denies it possesses such weapons.