Katatni elected chairman of Egypt Brotherhood party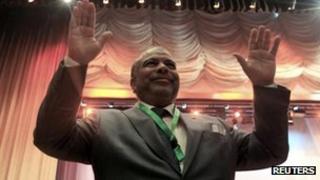 Former Egyptian parliamentary speaker Saad al-Katatni has been elected leader of the Muslim Brotherhood's political wing, the Freedom and Justice Party.
Mr Katatni beat the acting chairman, Essam al-Aryan, by 581 votes to 283.
President Mohammed Mursi stood down as the chairman of the FJP after taking office at the end of June.
In a speech after his victory, Mr Katatni said one of his priorities was restoring "unity among the Egyptian people and all political movements".
"We will work for Egypt to achieve genuine development," he said.
Mr Katatni, who was speaker of the FJP-dominated People's Assembly before it was dissolved in June following a Supreme Court ruling, is believed to be close to powerful hardliners in the Muslim Brotherhood. He led the group's parliamentary bloc from 2005 to 2010, and served in its Guidance Office from 2008 until 2011, when he became the FJP's secretary-general.
Mr Eryan had recently been criticised for remarks he made against the powerful Islamist movement's rivals.
He is under criminal investigation for allegedly inciting violence between supporters and opponents of the president in Cairo last week.