Profile: Wissam al-Hassan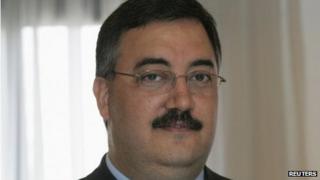 Brig Gen Wissam al-Hassan was viewed as one of the leading Sunni figures in Lebanon.
As head of the intelligence branch of the Internal Security Forces (ISF) he did not have a political role, but was still a key player in the opposition 14 March bloc.
Born in the northern Lebanese city of Tripoli in 1965, he spent the early part of his career looking after the security of Sunni leader and former Prime Minister Rafik Hariri.
He rose up through the ranks to become head of the prime minister's guard detachment in 2001.
A few years after Hariri's death in a massive car bomb in 2005, there were reports that Mr Hassan was suspected of involvement.
As Mr Hariri's chief of protocol, he would normally have been in the convoy that was hit by the blast but had taken the day off to take a university exam.
UN investigators were reported in 2010 to have found this alibi unlikely, but Mr Hariri's son Saad said he had always had full confidence in Mr Hassan.
The following year, Mr Hassan was not among those indicted by the UN-backed tribunal. Instead, prosecutors sought the arrest of four members of the pro-Syrian Shia Islamist movement, Hezbollah.
Elias Muhanna, a professor at Brown University in the US and editor of the Qifa Nabki blog on Lebanese politics, said the allegations were a "strange, unexplained aspect" of Mr Hassan's past, but had not dented his standing in the Sunni community.
He said the brigader-general was a high-profile figure, someone seen as a "protector of Sunni interests and an integral part of 14 March".
Mr Hassan's branch of the ISF was perceived as being strongly anti-Syrian, in line with 14 March's politics.
In 2005, he led an investigation into the death of Mr Hariri which implicated the Syrians, who at that time still had a military presence in Lebanon.
He had been in the news again recently following the arrest of pro-Syrian politician and former Information Minister Michel Samaha.
The Christian ex-minister was detained at his summer residence in August, accused of having explosives and making plans to target Sunni leaders supporting the opposition in Syria.
Following Wissam al-Hassan's death in a car bomb in Beirut's Ashrafiya district on 19 October, Saad Hariri and a number of other Lebanese political leaders directly accused the Syrians of being behind the attack.