Yemen soldiers killed in attack on south military base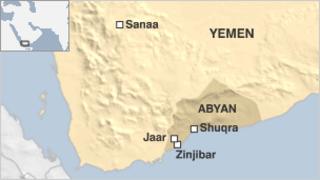 At least 14 soldiers and 12 al-Qaeda militants have been killed in an attack on a military base in southern Yemen, military and medical officials say.
The attack started at dawn, when militants blew up an explosives-laden vehicle at the base, 8km (5 miles) east of Shuqra in the province of Abyan.
A second group of militants then attacked the base from the sea, triggering fierce clashes with troops.
On Thursday, seven suspected al-Qaeda members died in a US drone strike.
Security officials said the militants had been meeting at a farm outside the town of Jaar. Residents said they heard several explosions.
The previous day, Defence Minister Gen Mohammed Nasser Ahmed had visited Jaar and vowed to hunt down members of al-Qaeda in the Arabian Peninsula (AQAP), an offshoot of the Islamist militant network.
A military offensive in June pushed AQAP and its allies from areas of southern Yemen which they seized during last year's uprising. Since then, militants have retaliated with deadly bombings and assassinations.
Uniforms
The base targeted on Friday houses the command building of the army's 115th Infantry Brigade, which was deployed to Abyan in late 2011.
At least four militants wearing explosive belts were involved in the first stage of the attack and had to drive through several security checkpoints.
They reportedly managed to pass themselves off as military personnel by dressing in uniform. Their pick-up truck also had a military number plate.
As they approached the base they opened fire on its guards, killing two of them, military officials said.
Three of the attackers then got out of their vehicle and began shooting at soldiers woken up by the sound of gunfire.
The fourth militant drove the explosives-laden pick-up truck into a group of soldiers and blew it up, killing himself and 10 of the soldiers.
Other soldiers subsequently killed the remaining three attackers, whose explosive vests were reportedly detonated in the clashes.
A second group of militants then launched an attack from the direction of the sea by opening fire at the base, but they were eventually repelled.
The commander of operations of the 115th Brigade, Col Saleh al-Dahma, and two other colonels were among the 14 soldiers killed, military sources told the New York Times.