Syria crisis: Air strikes on rebel towns in Idlib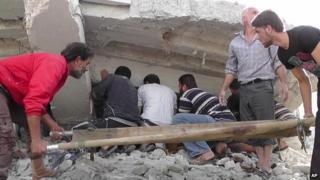 Air strikes on rebel strongholds in northern Syria have killed dozens of people, activists say.
Wednesday and Thursday's strikes hit towns in Idlib and Aleppo provinces, with one attack on Maaret al-Numan reportedly killing at least 20 people.
Residents had to dig through the rubble of flattened buildings to find trapped bodies, activists said.
It came as human rights groups said 28,000 people had disappeared after being abducted by soldiers or militia.
They say they have the names of 18,000 people missing since anti-government protests began 18 months ago and know of another 10,000 cases.
Online activist group Avaaz says "nobody is safe" from a deliberate government campaign of terror, adding that it has video evidence of people being seized on the street.
It intends to give the UN Human Rights Council a dossier for investigation.
The Syrian government has so far not commented on the claims but has in the past strenuously denied reports of human rights abuses.
Temporary ceasefire?
The UN says more than 18,000 people have been killed in the conflict with 170,000 fleeing abroad and 2.5 million in need of aid within the country. Opposition and human rights activists put the death toll at more than 30,000.
Syrian rebels want to create their own safe zone in the north of the country but, while they may have taken towns they do not control the skies, says the BBC's James Reynolds on Syria's border with Turkey.
Fighting has extended right to the edges of the country, adds our correspondent: For six hours next to the border, he heard the thud of explosions and small arms fire coming from the small town of Haram just inside Syrian territory.
As the violence continues, UN and Arab League envoy Lakhdar Brahimi is due to arrive in Syria on Saturday for talks with Foreign Minister Walid Muallem.
Mr Brahimi has proposed a truce over the Islamic holiday of Eid al-Adha, which starts on 25 October, to "allow a political process to develop".
The Syrian government has recently indicated that it is interested in exploring a temporary ceasefire - and opposition groups have said they would match this.
But despite the truce calls, the conflict continues to threaten to spill over Syria's borders.
Turkey's armed forces have several times returned fire across the border into Syria after Syrian mortar shells landed inside its territory. Turkish TV reported further cross-border exchanges on Thursday morning.