Lawyers investigating Yasser Arafat's death question widow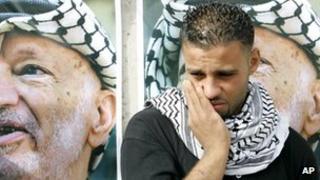 French lawyers investigating the death of Palestinian leader Yasser Arafat have questioned his widow as a witness.
A source told the AFP news agency that investigators spoke to Suha Arafat, who believes her husband may have been poisoned, in France last month.
Recently, privately-hired Swiss scientists found high levels of the radioactive material, polonium-210, on Arafat's personal effects.
They will accompany French prosecutors to the West Bank next month.
The former leader died in France in 2004, reportedly following a stroke resulting from a blood disorder.
A murder inquiry was launched in August after an investigation by al-Jazeera TV, working with scientists at the Institute of Radiation Physics (IRA) at the University of Lausanne in Switzerland, found "significant" traces of polonium-210 present in samples taken from Arafat's personal effects, including his trademark keffiyeh.
In some cases, the elevated levels were 10 times higher than those on control subjects, and most of the polonium could not have come from natural sources, the scientists said.
The investigation is still in its preliminary stages, and prosecutors will take a decision on whether to proceed based on the evidence they recover.
They are due to arrive in the West Bank city of Ramallah on 26 November to exhume Arafat's body from the stone-clad mausoleum in which it is buried in the presidential compound.
The Palestinian Authority has said that it would be willing to order the exhumation. However, senior officials have also suggested that this might not happen until an international inquiry is set up by the UN Security Council or the International Court of Justice.
Arafat, who led the Palestine Liberation Organisation for 35 years and became the first president of the Palestinian Authority in 1996, fell violently ill in October 2004 at his compound.
Two weeks later he was flown to a French military hospital in Paris, where he died on 11 November 2004, aged 75.
In 2005, the New York Times obtained a copy of Arafat's medical records, which it said showed he died of a massive haemorrhagic stroke that resulted from a bleeding disorder caused by an unknown infection.
Independent experts who reviewed the records told the paper that it was highly unlikely that he had died of Aids or had been poisoned.