Jordan sets date for early parliamentary elections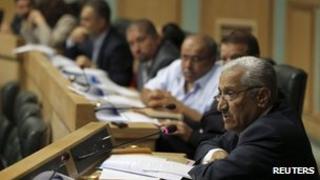 Jordan's electoral commission has announced that early parliamentary elections will be held on 23 January.
The commission revealed its decision a day after voter registration ended.
Earlier this month, King Abdullah dissolved the House of Representatives half-way through its term and appointed a new caretaker prime minister.
The Muslim Brotherhood's political wing, the Islamic Action Front, has threatened to boycott the polls unless the electoral system is changed.
As many as 15,000 people took to the streets of the capital, Amman, 11 days ago to show their support for the IAF's demand. It was the biggest opposition protest seen in the kingdom since the start of the Arab Spring.
'Keen to participate'
The electoral commission said 2.28 million of the 3.7 million people eligible to vote had registered by Monday.
Information Minister Samih al-Maaytah said this showed Jordanians were "keen to participate in polls for an assembly" that would bring reforms.
However, commentators said registration was relatively low, reflecting the opposition calls for a boycott and apathy among Jordanians of Palestinian origin, who make up 60% of the population but have little political power.
Many have been angered by amendments to an electoral law approved by the House of Representatives in July, which increased the number of seats from 120 to 150 and gave the electorate two votes - one for a district representative and one for national-level lists that include political parties - replacing the single non-transferable vote.
Opposition parties demanded that 50% of seats be allocated to party lists, but the new electoral law gave them just 27 seats, or 18%.
They also complained that the new law would strengthen supporters of the king by allowing members of the security forces to vote for the first time, and allocating three more seats for women from Bedouin districts.
This, they argued, would continue to marginalise Jordanians of Palestinian origin in favour of those descended from Jordan's original Bedouin inhabitants, whose tribes dominate the government and security forces and are the bedrock of the Hashemite monarchy.