Israeli parliament dissolves ahead of early election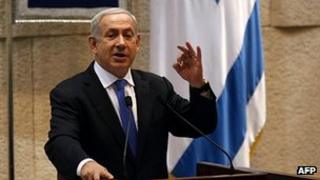 Israel's parliament has voted to dissolve itself and to hold an early general election on 22 January.
The unanimous vote followed a debate lasting more than eight hours.
Last week PM Benjamin Netanyahu said he was bringing forward elections due in a year's time because parliament could not agree on a new budget.
Opinion polls suggest Mr Netanyahu - whose right-wing coalition government has been in power since 2009 - will easily win the election.
"In less than 100 days the people of Israel will decide who will lead them in the face of the greatest security challenges which we have known since the founding of the state; who will lead them in the face of the toughest economic crisis the world has known in the past 80 years," Mr Netanyahu told the Knesset, the Israeli parliament.
Correspondents say Mr Netanyahu's Likud party is expected to improve on the 27 Knesset seats it took during the last election although if he wins he will almost certainly have to form another coalition.