Syria denies Human Rights Watch cluster bomb claims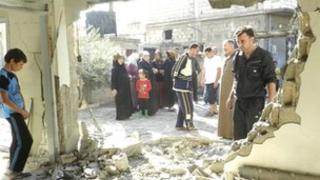 The Syrian army has denied allegations that it has been using cluster bombs in its battle with the rebels.
Human Rights Watch has accused Syria of dropping cluster bombs on populated areas, particularly around the north-western town of Maarat al-Nuaman.
In a statement, carried on state television, the army said it "does not possess these kinds of weapons" and the allegations are "baseless".
Meanwhile, UN envoy Lakhdar Brahimi has asked Iran for help with the crisis.
During a visit to Tehran, he sought Iran's help to implement a ceasefire in Syria, its close ally, over the forthcoming Muslim holiday of Eid al-Adha, which starts in about 10 days' time.
A ceasefire, he said, "would help create an environment that would allow a political process to develop".
Mr Brahimi made a similar appeal to Iraqi officials when he travelled on to Baghdad. He has been touring the region to seek a way of resolving the conflict; visiting Saudi Arabia and Turkey last week.
In other developments:
At least 50 people were reported to have been killed across Syria in violence on Monday
Turkey says it is now housing more than 100,000 Syrian refugees in its camps, the limit at which it said it would be unable to cope
EU foreign ministers have approved sanctions on a further 28 Syrians and two firms
Syria's President Bashar al-Assad has reportedly ordered immediate repairs to the important Umayyad Mosque in Aleppo, which was badly damaged in fighting over the weekend
Turkey said it had searched an Armenian plane taking aid to Syria, amid concern it may also be carrying military equipment to Syria
'False reports'
Human Rights Watch said on Sunday that online video reports purporting to show evidence of cluster bombs being used in the conflict had recently multiplied.
Many of the attacks had taken place on towns around the highway which runs through Maarat al-Nuaman and links the capital Damascus to the second city, Aleppo, the New York-based group said.
Cluster bomb canisters and sub-munitions shown in online videos showed "damage and wear patterns produced by being mounted on and dropped from an aircraft", HRW said.
It identified them as Russian-made RBK-250 series cluster bomb canisters with AO-1SCh fragmentation bomblets.
But the Syrian army denied it had any such weapons, and accused "some news outlets that are complicit in the bloodletting in Syria" of "publishing false reports."
"Such reports are baseless and a part of a disinformation campaign," it insisted.
Syria has not signed up to a convention, brought into law in 2010 and joined by more than 100 countries, to ban cluster bombs because of the threat they pose to civilians.
Steve Goose, HRW's arms director, on Sunday called on Syria to "immediately stop all use of these indiscriminate weapons that continue to kill and maim for years".