Egypt football season postponed indefinitely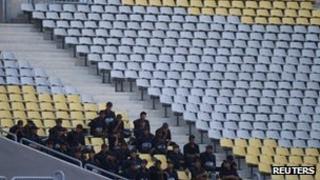 Egypt's football association has delayed indefinitely the start of the domestic season because of the February stadium riots that left 74 people dead.
The 2011-12 season came to an abrupt halt when supporters of Cairo club Al Ahly were killed in Port Said.
Play was due to resume in September but was delayed because of protests from Al Ahly fans and victims' relatives.
Now football officials have announced that security permission has not been given for the 2012-13 season to start.
The stadium disaster was sparked by a pitch invasion involving thousands of Al Masry fans attacking Al Ahly players and supporters.
Al Ahly fans later accused the police of not intervening because of the role played by some of the club's supporters, known as ultras, in the Cairo street protests that brought about the downfall of President Hosni Mubarak.
Although several senior security and football officials have been fired, BBC Cairo correspondent Jon Leyne says it is still not clear if anyone has been held accountable for the Port Said tragedy.
When the Egypt Football Association tried to start the new season in September, hundreds of Al Ahly fans attacked the body's headquarters, calling for justice for those killed in February.
While there is no sign of a resumption for the domestic league, Al Ahly are contesting the semi-final of the African Champions League.
They are due to play the second leg behind closed doors in Cairo on Saturday, against Sunshine Stars of Nigeria.
Their Champions League tie against Egyptian rivals Zamalek in September was also played without spectators.