Israel seeks to contain Gaza's Salafi-jihadist threat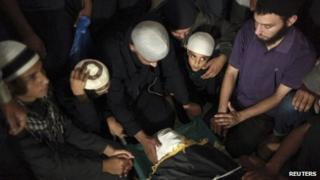 Outside of Gaza few people will have heard of Hisham al-Saedni, also known as Abu Walid al-Maqdisi.
But when the Israeli military killed him on Saturday evening, it managed to eliminate arguably the most senior Salafi-jihadist militant operating in the strip.
A small missile fired from an Israeli drone high above Gaza did the job.
It hit Saedni as he rode on the back of a motor bike on a busy street in the densely-populated Jabalia district of Gaza City. Another militant, also on the bike, was killed and several civilians including a young boy were injured.
But again the Israeli air force showed its ability to strike with remarkable accuracy.
Such an attack relies on intelligence gathering and the Israeli military knew exactly where Saedni was, which suggests somebody tipped them off.
In recent weeks Israel has been targeting Salafi-jihadist militants in Gaza. Saedni was the most senior.
Espousing violence
Believed to be in his mid-fifties, he was the leader of an al-Qaeda-inspired group operating in Gaza called al-Tawhid wa al-Jihad (Unity and Jihad).
Born in the strip, Saedni is thought to have spent much of his life in Egypt and Jordan.
Some sources in Gaza say he travelled to Iraq during the second Gulf War to fight with al-Qaeda against US-led forces.
The Israeli military says he had recently been involved in rocket attacks from Gaza, as well as planning operation against Israel from Egypt's Sinai peninsula.
Salafists practice a very conservative and traditional form of Islam.
They call for a return to the political and moral practices of the first Muslims, in particular the "righteous ancestors" known as "al-Salaf al-Salih" in Arabic.
In Gaza, as in much of the Middle East, the vast majority are non-violent.
Hamas officials estimate the number of Salafi-jihadists - or those who espouse violence - in Gaza to be in the tens rather than the hundreds. Others, though, say the numbers could be greater.
Hisham al-Saedni is said to have wanted to unite all the different Salafi-jihadist groups in Gaza under one banner. However, he had enemies not just in Israel but in Gaza itself.
Prison release
Salafi-jihadists have often been in conflict with the Hamas government here, which they regard as too moderate and too willing to compromise Islamic principles.
In March 2011, Saedni was arrested by Hamas security forces and imprisoned apparently for threatening security in Gaza.
His supporters from al-Tawhid wa al-Jihad tried to secure his release.
In April 2011 they kidnapped the Italian pro-Palestinian activist Vittorio Arrigoni, initially saying he would only be released in exchange for Saedni's freedom. But for an unknown reason the kidnappers killed Arrigoni within a few hours.
All of the men who murdered Arrigoni have since been either killed or jailed by Hamas.
Saedni remained in a Hamas prison until August, when he was released. Two months later he was killed.
Another Salafist militant killed by a separate Israeli drone strike this week was released from a Hamas prison just days earlier.
Challenging Hamas
There are those in Hamas - especially those within the Islamist movement's military wing, the Izz al-Din Qassam Brigades - who might mourn his passing.
But it is easy to argue that Saedni and other Salafi-jihadists are a thorn in the side of the authorities in Gaza, challenging Hamas's own resistance credentials.
Saedni was given a relatively low-profile funeral in Gaza on Sunday and Hamas did not even mention his name in their official press release about his death.
In recent months, Salafist groups here have complained about Hamas trying to restrict them from launching attacks against Israel.
It is widely believed that Hamas has no interest in escalating tensions with Israel right now, preferring to consolidate its power and try to profit from its strong ties with the new Islamist leadership in Egypt.
The Egyptian President, Mohammed Mursi, and his Muslim Brotherhood have also pledged to tackle Salafist extremists operating in Gaza and the Sinai.
The Israeli leadership is cheering Saedni's death. But privately those in power in Gaza and Egypt are unlikely to loose much sleep over his demise either.