Five Gaza militants killed in air strikes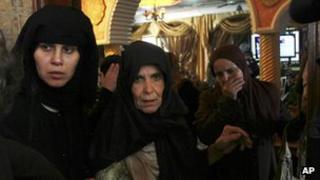 Four Israeli air strikes on the Gaza Strip at the weekend killed five militants, Palestinian officials say.
Two militants died and two other people were injured near Deir al-Balah on Sunday, ruling Hamas officials said.
Israel's military said it had targeted a "terrorist rocket squad".
On Saturday evening, an air strike killed the leader of a Gaza-based Salafist group and another militant in Jabalia and, a few hours later, another militant was killed in Khan Younis.
The Salafist leader killed in Jabalia, Hisham al-Saedni, was hit on a motorcycle. Israel said it was responding to a rocket attack on southern Israel.
Saedni, 43, is said to have headed the Mujahideen Shura Council.
On Friday, a rocket apparently fired by the same group landed in the courtyard of a residential building in the southern Israeli town of Netivot. No-one was injured.
There has been a flare-up in violence across the border recently, with Palestinian militant groups firing rockets into Israel and Israel carrying out a series of air strikes against targets across the Gaza Strip.