Israeli media ponder Netanyahu's game plan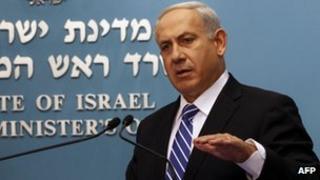 Israeli Prime Minister Benjamin Netanyahu's snap election call has ignited a debate in the country's main newspapers about his intentions. Many see it as a timely move to keep him in power while no major rivals are on the scene.
His stated reason for the election shake-up - that the stalemate over the 2013 budget needs to be sorted out for the good of the country - is taken as a mere alibi by at least one commentator.
Another writer thinks he has been hinting at an imminent election for a while by making bold moves on the international stage to bolster his image as a strong statesman.
Aluf Benn in independent broadsheet Haaretz
Netanyahu's announcement of early elections appears geared toward ensuring he remains in power. His rivals are weak and insignificant, and have not presented an alternative to his policies. When one listens to [Kadima leader] Shaul Mofaz, [former Kadima leader] Tzipi Livni or [Yesh Atid] Yair Lapid, Netanyahu stands out as an authoritative, experienced statesman with no viable replacement.
Mati Tuchfeld in pro-Netanyahu Yisrael Hayom
The truth is that Netanyahu could have dragged it out another year. Had he really wanted to do it, the budget would have passed, with all its draconian measures and cuts, and all would have been forced to fall in line, but in the end he decided to give up: There are prices not worth paying.
Nahum Barnea in mass circulation Yediot Aharonot
After the marker speech at the UN General Assembly [reference to Mr Netanyahu's drawing of a symbolic red line with a marker pen on a diagram of an "Iranian nuclear bomb"], it is noticeable that he drew lessons: Without comic drawings, without gimmicks, without hollow threats, his speech was concise, focused and effective. Instead of reaching the elections with a featherless government, without a budget and paralysed, Netanyahu chose to bring the elections forwards. This is a wise, timely decision.
Mazal Muallem in centrist Maariv
With the budget alibi in his pocket, after he had spoken in recent days with Shas [party] and [Foreign Minister Avigdor] Lieberman, and even quarrelled with [Defence Minister] Ehud Barak, Netanyahu opens the election campaign, which will be especially short… Netanyahu enjoys the leadership vacuum in the centre-left bloc - the only threat to Netanyahu from this direction is [former Prime Minister and Kadima leader] Ehud Olmert, who can rally Mofaz and Livni around him and present an alternative.
Herb Keinon in English-language Jerusalem Post
That Netanyahu was headed for elections became clear during a Rosh Hashanah interview with The Jerusalem Post, though he didn't explicitly state it. It became clear in the way he kept talking about how he stands up to the world, even when it is not popular; and about how he has the experience that the two people he views as his main challengers - Labour head Shelly Yacimovich and Yesh Atid leader Yair Lapid - lack… What Netanyahu has said and done for the last few months - from red lines, to publicly calling out the US, to his diagram at the UN - must be seen within that context.
BBC Monitoring reports and analyses news from TV, radio, web and print media around the world. For more reports from BBC Monitoring, click here