US man suspected of links to al-Qaeda arrested in Yemen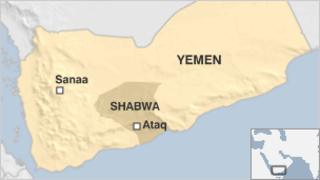 A US citizen suspected of having links to al-Qaeda has been arrested in Yemen, officials have told the BBC.
The man was detained in Ataq, in the province of Shabwa, the scene of an ongoing conflict between Islamist militants and Yemen's armed forces.
He was then transferred by military plane to the capital, Sanaa, where he was being investigated by the security services, the officials said.
The arrest took place on Monday. No details were given about his identity.
The man was wearing Arab clothes when he was arrested in the Sharqa Hotel in Ataq, according to a report on the privately-owned Yemeni news website, Yemen Fox, which quoted a local official.
The suspect spoke English, said he was a Muslim, and had three passports - two US and one German - in his possession, another official was quoted by the AFP news agency as saying.
Southern Yemen is a stronghold of Al-Qaeda in the Arabian Peninsula (AQAP), which was formed in 2009 by a merger between two regional offshoots of the Islamist militant network in Yemen and Saudi Arabia.
Last year, the director of the Central Intelligence Agency said AQAP, which has mounted several plots against the US, had "emerged as the most dangerous regional node in the global jihad".
In May, the US backed a Yemeni military offensive to recapture areas of Shabwa and the neighbouring province of Abyan, where militants linked to AQAP had established an "Islamic emirate".
The US has also targeted AQAP leaders in a series of drone strikes in Yemen. In September 2011, the US-born radical cleric Anwar al-Awlaki and another American, Samir Khan, were killed a drone strike. Awlaki's son Abdulrahman, 16, died in another the following month.