Israel launches strikes on Gaza after rocket fire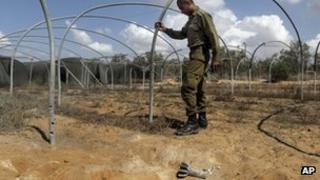 The Israeli military has carried out strikes on the Gaza Strip after Palestinian militants fired about 50 mortar rounds and rockets into Israel.
Several children were among those injured when Israeli forces shelled areas east of Khan Younis.
Earlier, rockets launched from Gaza landed in Israel's Eshkol region and near Kerem Shalom. No-one was hurt.
The military wings of Hamas and Islamic Jihad said the attack was a response to an Israeli air strike on Sunday.
Eight civilians, including two children, were injured in that strike, when a missile hit a motorbike ridden by two militants as it travelled through the southern town of Rafah.
One of the militants, Abdullah Maqawi, died of his wounds on Monday, while the other is seriously hurt.
The Israeli military said it had targeted two members of "global jihadist" groups which were suspected of involvement in a cross-border attack from Egypt in June that left one Israeli dead.
'Zionist crimes'
Shrapnel from the mortars and rockets fired into southern Israel on Monday caused some damage to at least one building in Eshkol.
Afterwards, the local authorities asked residents to stay close to shelters.
Hamas's military wing, the Izz al-Din Qassam Brigades, and that of Islamic Jihad, the al-Quds Brigades, announced that the rocket fire was a response to "Zionist crimes".
"In response to the injury of civilians in the most recent strike on Rafah, the Qassam Brigades and the al-Quds Brigades fired a number of rockets at enemy military positions," a Hamas statement said.
The BBC's Jon Donnison in Gaza City says it is unusual for Hamas to acknowledge involvement in attacks against Israel.
In the past it has tried to rein in rocket fire from smaller groups.
But Hamas is under pressure to be seen to be resisting Israel's occupation from those in Gaza who believe the Islamist movement has compromised too much, our correspondent adds.
Later, Palestinian medical sources in Gaza told the BBC that an Israeli shell had landed east of Khan Younis, injuring five people, among them several children.
Hospital officials told the Reuters news agency that one of those hurt was an Islamic Jihad militant thought to have been behind the rocket fire.
In a statement, the Israeli military said: "In response to this morning's rocket barrage at southern Israeli communities, the [Israel Defence Forces] targeted Hamas terror activity sites and terrorist squads responsible for the rocket fire from the Gaza Strip.
"The IDF will not tolerate any attempt to harm Israeli civilians, and will operate against anyone who uses terror against the State of Israel. The Hamas terror organisation is solely responsible for any terrorist activity emanating from the Gaza Strip."
More than 470 rockets have been fired from the Gaza Strip at Israel this year, not including those launched on Monday, the statement added.