Gaza militants targeted in Israeli air strike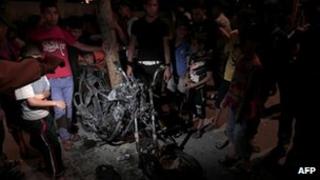 Two Palestinian militants and several other people have been wounded in an Israeli air strike on the southern part of the Gaza Strip, Hamas officials say.
Israel said the attack targeted a small militant group thought to be involved in a cross-border attack from Egypt in June in which an Israeli was killed.
Palestinian sources told the AFP news agency the strike was in the Rafah area of Gaza.
A number of bystanders were hurt, the report said.
Two of the wounded were said to be children.
A Gaza medical official said the motorcycle had been travelling in a busy area of Rafah, which borders the Sinai peninsula.
In a statement, the Israeli army said it had targeted two members of the group Global Jihad, including Talat Halil Jarbi who it said was a "senior operative" in the 18 June attack close to Israel's security fence.
Gunmen who appeared to have crossed from Egypt's Sinai peninsula attacked a convoy of construction workers, killing one and wounding another.
Palestinian medical sources told the AFP agency that Talat Halil Jarbi had lost both legs in Sunday's air strike.
The Israeli statement identified the second militant as Abdullah Muhammad Hassan Maqawai.