Iraq executes 11 people despite international outcry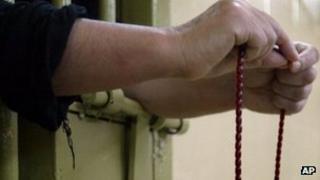 Eleven people have been executed in Iraq, bringing the number of executions this year to at least 113.
Ten Iraqis and one Algerian were put to death on Sunday, the justice ministry told the BBC. The men were convicted of terrorist activities, reports say.
The high number of executions has led to international calls for a moratorium on Baghdad's use of the death penalty.
The UN High Commissioner for Human Rights, Navi Pillay, has described the situation as "terrifying".
Speaking in January, Ms Pillay said there were major concerns about due process and fairness of trials in Iraq.
She also highlighted concerns about forced confessions, pointing out there were no reports of anyone on death row being pardoned.
The high rate of executions in Iraq has sparked calls for a moratorium from the UN, the UK, EU and the human rights group, Amnesty International.
Executions were halted after President Saddam Hussein was ousted in the US-led invasion into the country in 2003.
However, the Iraqi authorities reinstated capital punishment the following year, saying it was needed because of attacks by insurgents and sectarian violence.