Yemen 'foils attack' at air base used by US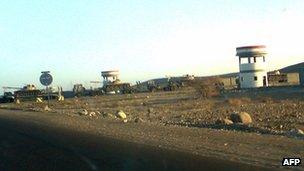 Yemeni officials say they have foiled an attack on a southern air base used by the US military.
Maj Gen Adnan Asbahi told BBC Arabic that guards had found a belt of explosives, rifles and women's clothes in a car parked close to Al Anad base.
An investigation is under way.
A number of US personnel are stationed at Anad to give counter-terrorism training to the Yemeni military and to supervise drone strikes, Yemeni government sources say.
Al Anad is the largest and most important air base in Yemen, a country faced with multiple security challenges.
The US has been assisting efforts to counter Al-Qaeda in the Arabian Peninsula (AQAP), the Yemen-based branch of the international militant network.
During a popular uprising that eventually forced out long-serving former president Ali Abdullah Saleh, AQAP took control of much of Yemen's Abyan province.
Government forces launched a campaign to regain control of the area in May.