Lebanon blast 'kills Hezbollah militants'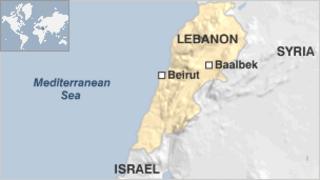 Three Hezbollah militants have been killed in explosions in eastern Lebanon, the Shia Islamist group's al-Manar TV has reported.
The blast occurred at a depot used to store unexploded Israeli arms about 18 miles (30km) south of Baalbek, it said.
The cause of the explosion in Nabi Sheet in the Bekaa Valley - a Hezbollah stronghold - was not immediately clear.
One report by the AFP news agency said as many as nine people had died, with several others injured.
Residents and officials reported a series of blasts at a building still under construction.
Hezbollah fought a month-long war with Israel in 2006, and keeps large stocks of weapons that it says would be needed in the event of a new conflict.
The Islamist group is part of Lebanon's government. It has close ties to the government of Bashar al-Assad, which has been fighting an uprising for the last 18 months in neighbouring Syria.
Four Syrian workers were among those wounded in Wednesday's explosion, AFP quoted a local official as saying.
Hezbollah weapons depots have occasionally been hit by explosions in the past.