Iraq attacks: September 'deadliest month for two years'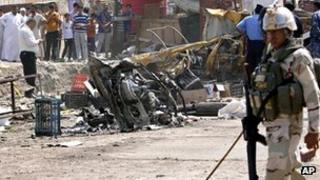 Some 365 people were killed in Iraq during September, making it the country's deadliest month for more than two years, says the government.
The month saw 182 civilians, 88 police and 95 soldiers killed in attacks across Iraq, official figures show.
They were compiled by Iraq's health, interior and defence ministries.
More than 100 died on 9 September in bomb and gun attacks against mostly Shia targets claimed by a Sunni group affiliated with al-Qaeda.
And on Sunday, at least 32 people were killed as car bomb attacks targeted security forces and Shia pilgrims around the country.
The government figures also showed that 683 people - 453 civilians, 110 police and 120 soldiers - were wounded in September.
The statistics made September the most violent month since August 2010, when 426 people were killed and 838 wounded in attacks.
Although violence has decreased in Iraq since its peak in 2006 and 2007, attacks escalated again after the withdrawal of US troops from the country at the end of last year.
Recent months have seen a rise in attacks - in particular in multiple bombings.
Islamist insurgents linked to al-Qaeda have been trying to provoke new conflict, analysts say, as the government continues to be split along sectarian lines.