Iran's Fars agency sorry for running the Onion spoof story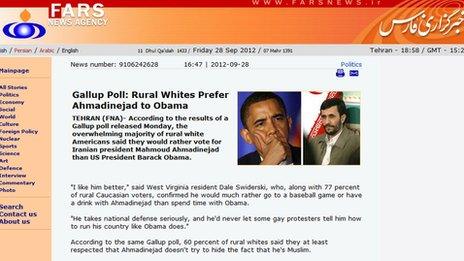 An Iranian news agency has apologised after being fooled by a spoof story from a US satirical website.
Fars news agency said on its website that its news item "was extracted" from the Onion website on Friday, but was taken down in less than two hours.
The Onion's story claimed that rural Americans preferred Iranian President Mahmoud Ahmadinejad to Barack Obama.
Fars' editor-in-chief said he still believed that US politicians were deeply unpopular with their public.
"Although it does not justify our mistake, we do believe that if a free opinion poll is conducted in the US, a majority of Americans would prefer anyone outside the US political system to President Barack Obama and American statesmen," the Fars story quoted the unnamed editor as saying.
"FNA makes every effort to ensure the accuracy of its reports, however very occasionally mistakes do happen."
The report then goes on to list errors it says have been made by other news organisations over the years, including the BBC, New York Times and ITV.
Fars, which is affiliated with the powerful Islamic Revolution Guards Corps (IRGC), did not credit the Onion for its original report.
The story quoted a West Virginia resident as saying the Iranian leader "takes national defence seriously, and he'd never let some gay protesters tell him how to run his country like Obama does".
Homosexuality is punishable by imprisonment or, in some cases, death in Iran.
The Onion has a history of its reports being picked up by news outlets.
In 2004, China's state-run Beijing Evening News carried an Onion report that said the US Congress was threatening to move out of Washington unless a new Capitol was built.
And in 2009, two Bangladeshi newspapers apologised after publishing an Onion article claiming the Moon landings were faked.
Related Internet Links
The BBC is not responsible for the content of external sites.