Israeli, Iranian media see in Netanyahu speech warning of war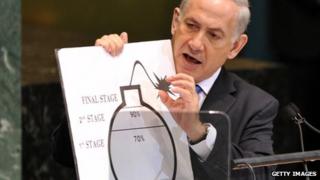 Israeli Prime Minister Benjamin Netanyahu's speech to the UN General Assembly on Iran's nuclear capabilities has been welcomed in the Israeli press, and derided by Iranian media.
Several Israeli commentators view the speech as a clear threat from Israel over a possible pre-emptive strike on Iran. However, Mr Netanyahu's use of simple drawings to illustrate Iran's alleged nuclear progress leads the Iranian broadcast media to mock the speech.
Meanwhile, one commentator in the pan-Arab press issues a stinging attack on the Israeli prime minister, pledging Arab support for Iran in the event of any future war.
Israel
Israeli newspaper commentators say Netanyahu's speech as confirmation that the country is planning a military strike against Iran.
In the centrist Yediot Aharonot, Nahum Barnea says: "If one takes Netanyahu's statements seriously, within months at the most, if Iran is not deterred and if the United States does not attack, Israel will attack alone".
Yossi Verter, writing in left-of-centre Haaretz, thinks Netanyahu has "prepared the ground not only for a possible Israeli strike on Iran next spring" but has also set up an Israeli election campaign "that will be dubbed 'the most fateful since the establishment of the state'". According to Mr Veter, Mr Netanyahu's message is clear: "If anyone had any doubt, the doubt has vanished: Benjamin Netanyahu, for as long as he is the Israeli prime minister, will not agree just to contain a nuclear Iran."
The Israeli prime minister's use of graphics to illustrate the perceived Iranian nuclear threat, mocked by the Iranian media, is played down in Israeli commentaries.
Boaz Bismuth, writing in free, pro-Netanyahu Yisrael Hayom argues that "the mark Netanyahu will get for this drawing does not preoccupy us, but rather the impact that his speech will leave". Mr Bismuth adds that the prime minister delivered "one of the speeches of his life" to the General Assembly, and "reminded the world of the war of civilisations which is underway today; radical Islam does not threaten Israel alone, but also Europe and the United States."
In the English-language Jerusalem Post, Herb Keinon says that although Mr Netanyahu assumed "a professorial role" and turned the UN General Assembly "into an 'Intro to Nuclear Physics' class", his speech made an impact. "Some will dismiss the bomb graph as a juvenile gimmick; gimmick or not, the chart served one purpose - and it served it successfully - getting people's attention."
Iran
No papers are published in Iran on Fridays, but Iranian broadcast media covered Mr Netanyahu's speech with a mixture of factual reporting and critical commentary.
The presenter on Iranian English-language Press TV said Mr Netanyahu had "used the international platform to insult Muslims", and that he tried to show an "apocalyptic image of Iran".
Iran's pan-Arab, Arabic-language al-Alam TV aired a video report on opinion polls in Israel, noting that most Israelis were anticipating a war in the Jewish New Year, while "50% feared the destruction of Israel".
Iranian state radio said Mr Netanyahu's use of a "drawing" prompted "mockery from various media outlets and social media users".
Some Iranian Twitter users ridiculed Mr Netanyahu's attempt to show Iran's nuclear programme as a threat. Twitter user "SHoBBar MZ" said: "He should be awarded the joker of the year". Another user, "MARMAREH", said: "Oh honey, please work on your drawing, next time you will be able to draw a missile".
Pan-Arab press
Abd-al-Bari Atwan, the editor-in-chief of the independent Arab nationalist al-Quds al-Arabi, gives a scathing response to Mr Netanyahu's speech, describing him as "arrogant and insolent". "No one applauded this lying lecturer and no one was amused by his naive illustrations," Mr Atwan writes.
He also pledges Arab support to Iran in any future confrontation between the two countries: "When we are told to choose between Netanyahu's Israel, the aggressor, and Iran, which is defending itself, its territories and honour, we will definitely stand with the latter."
Lebanon and Jordan
Commentators in Lebanon and Jordan see the speech as being influenced by the political climate in the US.
Samir Karam, writing in Lebanon's leftist, nationalist, pro-Syrian al-Safir, says Mr Netanyahu has now "realised that Obama refuses to be involved in a war with Iran and that he is determined to end the nuclear issue through peaceful means."
Meanwhile in Jordan's privately-owned, pro-government al-Ray, Dr Walid Muhammad al-Sadi says some observers think Netanyahu is "inclined to take advantage of the US elections environment to make hasty decisions, dragging both his country and the US into war by embarrassing Obama into standing by his side".
BBC Monitoring reports and analyses news from TV, radio, web and print media around the world. For more reports from BBC Monitoring, click here