Syrian rebel commander finds solace in poetry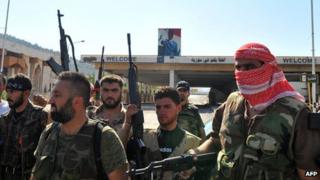 As the UN General Assembly debates Syria the conflict rages on but at an opposition-controlled border post between Turkey and Syria, one rebel commander would rather write poetry than fight.
I am sitting in a room at the Bab al-Hawa border crossing between Turkey and northern Syria, listening to poetry.
When I passed through here two years ago, skinny border guards from the regime of President Bashar al-Assad were staffing the post. Today it is held by a group of opposition fighters.
They are led by Abu Azzam, a tanned, portly 30-year-old commander whose men obey his orders immediately.
Signs of the battle to capture the post from the army are everywhere. Next to the smashed up duty free store, captured government tanks stand idle and there is even an abandoned stretch limousine.
Order is now returning. Fighters, dressed in matching green T-shirts with the group's logo, divide up tasks. Some stand outside directing Syrians crossing to Turkey - others sit in the office sipping hot, sweet tea and attending to Abu Azzam.
It is he who is reciting poetry.
At first glance, the commander does not look like a man of letters. But his mellifluous voice and soft demeanour hint at a more sensitive side.
He reads a poem he composed earlier this year. The formal Arabic is hard to understand but his deep, booming voice and hand and facial gestures have everyone in the room transfixed.
The poem talks about how the Syrian people stood up to the regime and paid with their blood.
Today Abu Azzam's work is inspired by the revolution. But he was writing poetry to criticise the regime long before people took to the streets in March 2011.
"I knew things were bad here, but we couldn't talk about it," he tells me. "So I wrote but in a way that could be interpreted as apolitical."
Arabic is a particularly rich language for literature. Poetry has a long history in Arab lands. Scribes in courts of the Caliphates penned odes to their masters, while local storytellers would recite tales handed down over generations.
But under the Assad regime anything other than government-sanctioned culture was discouraged.
Because art is often a means of dissidence, famous Syrian filmmakers, writers, painters were locked up. The regime continues to target them in today's crackdown.
When Abu Azzam started to compose poetry at the tender age of 15 he wrote about love, he says, abashedly.
The verses were so good that soon friends and neighbours in his small village in eastern Syria nicknamed him al-Mutanabbi, after the famous 10th Century Arab poet.
By 2000, the year Bashar inherited power from his father and former President Hafez al-Assad, Abu Azzam won a series of competitions and was crowned Syria's national poetry champion. He went to university in Homs, Syria's third city, to read Arabic literature.
That was where he was when the revolution started. He says he cried at the sound of gunshots when security forces shot at peaceful protesters.
He was under no illusions that poetry or protest alone could change this brutal regime, he says.
So when the Free Syrian Army started to fight back, he moved to Baba Amr, a poor neighbourhood of the city that was destroyed by heavy bombardment in February this year.
"I picked up my gun but did not put down my pen," he says. "During the battle there I wrote poems about the suffering of civilians in the area."
As he finishes reciting the poem I look around the room. Suddenly I see the young fighters in a different light.
Abu Azzam's poetry is a reminder that few of these men are professional fighters. They are normal people with hopes and dreams.
They were students, engineers, doctors and journalists who did not expect to be fighting a war that now ravages the country.
Abu Azzam tells me that he lost his notebooks of poetry during the siege in Homs when a building he was living in was shelled. I pull out my reporter's pad and ask him to write down what he can remember.
He does, in careful, rounded handwriting.
"It's good to write again," he says. For as the war deepens and Abu Azzam has more responsibilities, he finds less and less time to write.
He hopes that the fighting will end soon so he can continue his studies. He wants to do a PhD on the development of Arabic poetry.
"Then I will become a professional poet and publish freely," he says.