Backlash in Egypt as revolutionary wall is whitewashed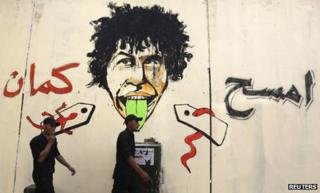 When it became known that the walls along Mohammed Mahmoud street in Egypt's capital, Cairo, were going to be painted as a part of a governmental renovation campaign, activists and graffiti artists were ready with tins of paint, brushes and spray-paint.
The outside-facing walls of the American University's campus, just off Tahrir Square, have been covered with various graffiti and murals depicting events since the popular uprising that forced former President Hosni Mubarak to step down.
The artwork included witty cartoons and comments about Mubarak and the generals who ruled the country until a new president was elected in June.
It also featured the faces of some of those killed, whether in clashes with the security forces or in the infamous Port Said stadium riot in February in which 70 people were killed, most of them fans of the capital's Al Ahly football club.
'Never forgotten'
For those behind the paintings, the walls of Mohammed Mahmoud street told their stories. And they considered the new government's decision to paint over them an attempt to deny them their place in Egypt's history.
"You should know what you are erasing," one activist said as she filmed the men painting over the graffiti.
"If you think that by doing this you'll erase history, it will never be forgotten. Every story will be told and told again."
Mohammed Mahmoud street was the scene of several deadly clashes between security forces and protesters in the months that followed the overthrow of Mubarak.
It became a symbol of resistance both in activism and art.
Knowing its recent history, the authorities deployed Central Security Forces vehicles and personnel on the street as the painters covered the graffiti with beige paint.
New artwork
But there were no clashes like those for which the street has become famous.
The resistance was different. When the painters finished, a young man rushed to the wall with a can of black spray paint and started writing.
Many followed suit and in less than two days the wall was covered with new artwork and old messages like "Bread, freedom and social justice" and "Glory to the martyrs".
This time, however, new President Mohammed Mursi, his government and his Islamist movement, the Muslim Brotherhood, were also subjects of the graffiti.
One painting showed Mr Mursi's head on a queen of clubs playing card.
Another showed the face of a young man sticking out his tongue with the message: "Go on erasing, you cowardly regime."
Renovation
"These paintings were made under very difficult circumstances - they can't just paint over them," said Ahmed Nadi, a graffiti artist.
"This street is the memory of a nation and it will continue to be."
In the past few weeks, Cairo's city council has been attempting to renovate Tahrir Square and its surrounding streets.
The huge roundabout once covered with tents is now covered with green grass.
This may have been what the authorities were trying to achieve with Mohammed Mahmoud street.
But the activists' response could be summed up by one of the new messages on the wall: "Erase and I'll paint again."