Syria rebels bomb 'school' in Damascus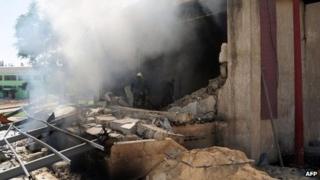 There have been explosions at a school in the south of the Syrian capital, Damascus, causing casualties, activists and state media say.
Two rebel groups said the building, near a branch of Military Intelligence, was being used as a base by a pro-government militia and security forces.
They said it had been almost completely destroyed, killing several officers.
But officials told state TV it was just a school for the children of military families and the damage had been minor.
Meanwhile, mortars apparently fired during fighting between soldiers and rebel forces to the south also fell in the Israeli-occupied Golan Heights.
The Israeli military said the shells caused no damage or injuries.
"The shells were aimed at villages inside Syria and are part of the ongoing internal conflict," a spokesman told the AFP news agency, adding that "fire from Syria leaking into Israel will not be accepted".
'Planning meeting'
In Damascus, two rebel groups - Ansar al-Islam and the Grandsons of the Prophet Brigade - announced on Tuesday morning that they had detonated several bombs inside a school building.
They said it housed Shabiha militiamen and security services personnel, and that it was located near the Palestine branch of Military Intelligence, not far from the capital's main airport.
Abu al-Nur of the Grandsons of the Prophet Brigade told al-Arabiya that "several well-known officers" had been killed in the bombing. The building was 75% destroyed and had collapsed, he added.
Abu Moaz, a leader of Ansar al-Islam, said the school was being used for a planning meeting between Shabiha leaders and security officers.
Residents quickly said smoke could be seen billowing from the area, but it took more than an hour for state TV to confirm that the Abna al-Shuhada (Sons of the Martyrs) school had been bombed.
The director-general of the school authority was quoted as saying that two explosive devices had been planted inside a building by "terrorists". The blasts had injured seven people and caused some minor material damage, the official added.
The Syrian Observatory for Human Rights, a UK-based activist group, said the explosions had been so powerful the walls collapsed - something which photographs published by the state news agency supported.
Earlier, the charity Save the Children urged the United Nations to do more to document violations of children's rights in the Syria conflict.
The call came in a report which contains first-hand accounts by Syrian children who describe being tortured and witnessing atrocities.
The report includes the story of a 15-year-old boy who had cigarettes stubbed out on his body, while another describes being given electric shocks and sharing a cell with decomposing bodies.