Israel rules out changing Egypt Camp David peace treaty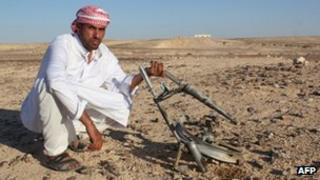 Israeli Foreign Minister Avigdor Lieberman says Israel will not change the 1979 peace treaty with Egypt.
Egyptians "shouldn't try to delude themselves or delude others," Mr Lieberman told Israel Radio.
It comes amid calls in Egypt to amend the treaty which limits the number of Egyptian troops allowed in the Sinai peninsula as violence increases there.
An Islamist group says it launched the latest attack from the area - a clash inside Israel on Friday.
The group, Ansar Beit al-Maqdis said the attack - in which an Israeli soldier and three militants were killed, and another soldier wounded - was in response to an amateur anti-Muslim video made in the US.
The violence comes as Egypt's new Islamist President Mohammed Mursi makes his first trip to the US since being elected in June.
He will attend the United Nations General Assembly in New York.
In an interview with the New York Times, Mr Mursi criticised US administrations for having backed Middle East dictators. He urged a change of policy, including a state for the Palestinians.
"As long as peace and justice are not fulfilled for the Palestinians, then the treaty remains unfulfilled," Mr Mursi said, referring to the US-brokered peace treaty with Israel.
Under the 1979 Camp David Accords, Israel agreed to hand over the Sinai peninsula, occupied in the 1967 war, but only on condition that Egypt limit the number of troops allowed to operate there. The last piece of land was handed over in 1982.
But in recent months, Sinai has become increasingly lawless, says the BBC's Middle East correspondent Jon Donnison. There have been attacks by Islamic militants on Egyptian security forces and also several cross-border attacks into Israeli territory.
Israel has temporarily allowed Egypt to put more troops in the Sinai to tackle the unrest.
Crackdown
But speaking on Israeli radio, Foreign Minister Avigdor Lieberman said he would reject any permanent modifications to the Camp David Accords.
"There is no chance that Israel will agree to any kind of change" to the peace deal, Mr Lieberman said.
He dismissed this was to do with troop numbers, adding: "It is their readiness to fight, to put pressure and to carry out the job as is needed."
Egypt has launched a crackdown on Islamist militants operating in the Sinai peninsula after an attack last month left 16 Egyptian soldiers dead.
In that incident, the militants subsequently crossed the border with Israel in an apparent attempt to carry out another attack. However, they were killed in Israeli air strikes.
In June, militants fired an anti-tank missile at a vehicle convoy carrying construction workers helping to build the new border fence. One Israeli construction worker and two of the attackers were killed.
Analysts say that the security situation in Sinai has deteriorated following the fall of Egyptian President Hosni Mubarak last year, and that local Bedouin criminal gangs, radical Palestinian groups and possibly militant Islamists sympathetic to al-Qaeda have gained a foothold.