Lebanon rocked by spate of kidnappings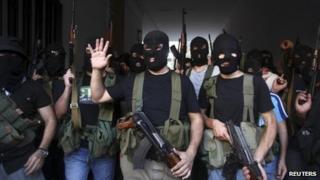 It was a striking contradiction. As Lebanon celebrated this week a security success in organising the visit of Pope Benedict XVI, the country was witnessing a spate of kidnappings reminiscent of the lawlessness of the civil war.
The link between the victims seems to have been their financial situation. All of them are wealthy businessmen, and their kidnappers demanded ransoms as high as $15m (£9m).
The kidnappings represent a big challenge for the government, which has vowed to root out those responsible within a week - a promise that has been met with a great deal of skepticism.
Costly freedom
Fouad Daoud is still welcoming well-wishers flocking to his house in Zahle, a town overlooking the Bekaa Valley, in the country's east. They want to celebrate the happy end to his ordeal.
Late on Thursday, a week after he had been abducted, the army stormed the house where Mr Daoud was being held and freed him.
"It all started when I received a call from a stranger who spoke to me in a very familiar tone. He knew that I was a car dealer and the owner of a big car-parts store. He said he had a used car that could fetch a good price. I agreed to go to Baalbek, in the Bekaa valley, to see it."
"When I arrived to the location, four masked men carrying weapons got out of a car and seized me. They told me that they knew that I had $1m (£615,000) and that they wanted $250,000 to free me."
Mr Daoud was allowed to make one telephone call only during his time in captivity, and was moved to three different locations. He did not endure any physical violence.
In many aspects the story of Youssef Bechara, who was also kidnapped last week, is similar to Mr Daoud's.
The owner of a chain of bakeries, Mr Bechara was snatched from his car after his kidnappers deliberately drove their vehicle into the back of it.
His family was asked for a ransom of $400,000 (£246,000), which they quickly paid, prompting the kidnappers to free Mr Bechara on Wednesday.
His daughter admits the family might have complied with the demand too quickly and that they should have given the security forces a chance to free him and bring the kidnappers to justice.
Security alert
Kidnappings in Lebanon, particularly in the Bekaa region, are not new. But in the last few weeks their frequency has increased.
The security forces have failed to prevent them, but they have been relatively successful in catching the perpetrators. They are in constant deliberations and have put personnel on high alert.
Security sources believe that three main gangs are behind the kidnappings and the Interior Minister, Marwan Charbel, has promised to put an end to them.
Mr Charbel is confident that he will deliver his promise - he says he has got broad political support.
"This time it's different. The spate of kidnappings was discussed in the cabinet and all political parties agreed to lift the lid on any perpetrator in all the regions", he told reporters, hinting that the gangs might have had some protection from political parties or groups.
Clans
The problem of kidnappings in Lebanon has come to the fore last month following the abduction of dozens of Syrians and a Turkish businessman by a powerful Shia clan based in the Bekaa valley, the Mekdads, after a family member was seized by Syrian rebels and accused of entering Syria to fight alongside government forces.
Last week, the Turkish man was released by the Mekdads hours after a raid by Lebanese soldiers freed the last four Syrian hostages, who were being held in one of the family's houses in Dahieh, a southern suburb of Beirut.
On Tuesday, a military prosecutor charged six members of the Mekdad clan with forming an armed group for terrorist purposes, as well as the kidnappings.
Although the kidnappings carried out by the Mekdads were politically motivated rather than financially motivated like those of the three businessmen, some analysts see strong similarities in the cases.
"They're both spurred by a sense of lawlessness and chaos that creates a favorable context for gangs and criminals", said Omar Nachaba, legal affairs editor for the Lebanese newspaper, al-Akhbar.
'Rule of the jungle'
The head of the Progressive Socialist Party, Druze leader Walid Jumblatt, has meanwhile warned that if the authorities did not impose the rule of law "we will become like Mexico or Colombia and the rule of the jungle will prevail".
The government is adamant it will impose order. It might succeed in forcing the gangs to take a break from their kidnapping business or even to bring them to justice.
But this might not be enough to reassure many Lebanese.
Most lament that security in their country depends on political willingness and agreement.
Security in Lebanon has always been primarily a matter of politics. And somehow lawlessness has always managed to coexist with the rule of law.