Israeli air strike kills two Palestinians in Gaza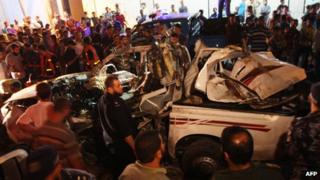 Two members of the ruling Hamas security forces have been killed in an Israeli air strike in the Gaza Strip, Palestinian officials say.
They died when their car was hit in Rafah, on the border with Egypt, Palestinian sources said.
Israel said it hit "two terror operatives", thwarting an attack which was in "a very advanced stage of planning".
Violence intermittently flares up across the Israel-Gaza border.
Two weeks ago, six Palestinians, who Israel said were preparing attacks against it, were killed in air strikes in Gaza. Several Israelis and at least two Palestinians were hurt in rocket attacks on Israel, and further air strikes on Gaza, which followed.
Hamas named the two men killed in the latest strike as border guards Lt Ashraf Saleh, 33, and his deputy, Anis Abu al-Aynin, 22.
It said they were "on their routine daily business of inspecting and securing the southern border of the Gaza Strip and Egypt" when they were hit late on Wednesday night.
Pictures from the scene showed crowds of people gathered around the burnt-out wreckage of a white Toyota four-wheel drive.
Israel said the men were affiliated with the Defenders of al-Aqsa, which it described as "a terrorist group sponsored by Hamas".
"The IDF [Israel Defence Forces] and Shin Bet [security agency] follow everything that happens in Gaza," the IDF said on Twitter. "The attack we thwarted last night was at a very advanced stage of planning.
"Terrorists planned to exit Gaza into Sinai and then enter Israel through our border fence and attack the heart of the country during the holidays," it said, referring to the festival of Yom Kippur, the holiest day in the Jewish calendar, which occurs next week.
Militants from small factions not belonging to Hamas often fire rockets into Israel, but Israel has said it holds Hamas responsible for all attacks emanating from Gaza.