'Serious fiscal crisis' in Palestinian territories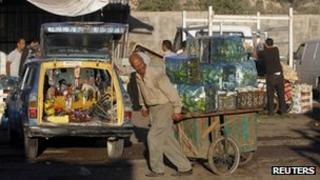 The World Bank has warned that the Palestinian Authority in the West Bank faces a $400m (£246m) budget shortfall and asked donors to act urgently.
Its latest report on the Palestinian economy says there is a "deepening fiscal crisis" and "worrying signs of economic slowdown".
Israel is criticised for stifling growth in the 60% of the West Bank which comes fully under its control.
The report comes amid protests by Palestinian over rising living costs.
Last week, the Palestinian Authority's Prime Minister, Salam Fayyad, was forced to cut value-added tax (VAT) and fuel prices after several days of strikes and violent demonstrations.
President Mahmoud Abbas also proposed cancelling the 1994 Paris Protocol on economic co-operation with Israel, which was signed following the Oslo Accords.
'Barriers to development'
The World Bank report says that the finances of the PA, which governs the West Bank, have been hit by cuts in donations and the failure of donors, including the US and Arab countries, to meet their pledges.
At the same time there has been slow economic growth that reduced revenues, and higher than expected expenditure on loans, it adds. The PA has nearly $2bn (£1.2bn) of debt.
The World Bank concludes that more private sector investment is needed to achieve sustainable economic growth in the Palestinian territories.
However, it says this is hampered by Israeli restrictions, most notably in what is known as Area C of the West Bank. which is where most of the land, water and other natural resources are found. The Oslo peace accords placed the area under full Israeli administrative and military control.
Israel says the restrictions are necessary for its security.
"Donors do need to act urgently in the face of a serious fiscal crisis facing the PA in the short term," said Mariam Sherman, World Bank country director for the West Bank and Gaza.
"But even this financial support, sustainable economic growth cannot be achieved without a removal of the barriers preventing sustainable private sector development, particularly in Area C."
The report is published just ahead of a meeting of international donors in New York next week.
The PA has warned for months of a major budget shortfall. On several occasions in the past year, 150,000 civil servants have not been paid on time, says the BBC's West Bank correspondent, Jon Donnison.
Rising prices of food and fuel also contributed to widespread social unrest. Although the average wage for Palestinians in the West Bank is around $20 (£12.20) a day, and the price of fuel is similar to in Europe.
Our correspondent says that some fear if economic conditions do not improve it could bring an end to several years of relative stability.