Lebanon Shia Mekdad clan charged over kidnappings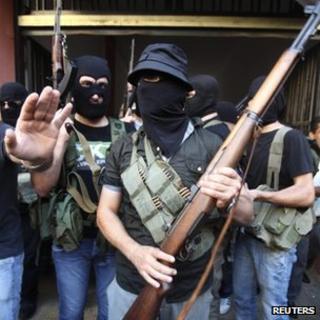 A military prosecutor in Lebanon has charged six members of a powerful Shia Muslim clan with forming an armed group for terrorist purposes and kidnappings.
The Mekdad clan last month took dozens of Syrians and a Turkish businessman hostage in Lebanon after a family member was abducted by Syrian rebels.
The Mekdads' hostages were freed last week in a raid by the Lebanese army.
The men charged on Tuesday, including the clan's spokesman Maher Mekdad, could face life in prison if convicted.
The hostage-taking heightened fears about Lebanon being pulled into the conflict in Syria, where the majority Sunni community has been at the forefront of the revolt against President Bashar al-Assad, a member of the minority Alawite sect.
The incident began when Syrian rebels detained Hassan Mekdad, claiming he had ties to the Lebanese Shia Islamist group Hezbollah, which is allied to President Assad, and accusing him of entering Syria to fight alongside government forces. The Mekdads denied the allegation.
The Mekdads, a heavily-armed clan with smuggling interests in the east of Lebanon, responded by saying its "military wing" had taken hostage more than 20 Syrians and Turkish businessman Aydin Tufan Tekin.
Last week, Mr Tekin was released by the Mekdads hours after a raid by Lebanese soldiers freed the last four Syrian hostages. He said he had been treated well but that his 27 days in custody had been "not easy".
Maher Mekdad told reporters at the time: "We wanted to put pressure by kidnapping people. It's the only way when you live in a jungle."
Hassan Mekdad has not been heard of since he appeared in a video posted online sitting in front of three men who claimed to be FSA fighters.