US missions braced for protests over anti-Islam film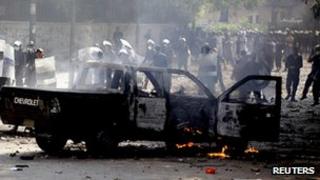 US missions are on high alert across the Muslim world as anger grows over a film made in the US that mocks Islam.
In the Egyptian capital, Cairo, police fired tear gas at about 500 protesters near the US embassy. Security forces and demonstrators also clashed in the Yemeni capital, Sanaa.
On Tuesday, protesters stormed the US consulate in Benghazi in Libya, killing the ambassador and three others.
Since then unrest has spread across the Middle East and North Africa.
In Sanaa, security forces fired warning shots and water cannon to disperse protesters near the US embassy. One person died on Thursday when the US embassy compound was stormed.
Protesters in Cairo were pushed back from the US embassy to Tahrir Square and the BBC's Jon Leyne, in the city, says unrest is still simmering.
The streets around the embassy have been blocked with barbed wire, concrete and police vehicles.
Islamist groups and others had called for a peaceful "million-man march" in the city, but a number withdrew those calls on Friday.
The Muslim Brotherhood of Egyptian President Mohammed Mursi said it would organise marches and sit-ins in front of mosques - but none outside the US embassy in Cairo.
After talks with Italian leaders in Rome, Mr Mursi reiterated his government's determination to protect foreign diplomats on its soil. He also condemned the film as unacceptable.
Following violent clashes at the US embassy in Cairo earlier this week, US President Barack Obama said he did not currently consider Egypt to be an ally.
Mr Obama has promised to do whatever is necessary to protect US citizens abroad and has urged foreign governments to guarantee their security.
UN Secretary-General Ban Ki-moon condemned the film, and the violence.
"Nothing justifies such killings and attacks," he said in a statement. "The hateful film appears to have been deliberately designed to sow bigotry and bloodshed."
'Wild actions'
Libya's new Prime Minister Mustafa Abu Shaqur has told the BBC he does not want the consulate attack to damage relations with the US.
In Benghazi, US and Libyan officials are investigating the possibility that heavily armed militants used the protest as a pretext for a co-ordinated assault.
Libyan officials say several people have been arrested and are being interrogated on suspicion of having instigated the attack. Four embassy staff died, including Ambassador Chris Stevens.
US Secretary of State Hillary Clinton named two of the men as former Navy Seals Tyrone Woods and Glen Doherty, who she said had died trying to protect their colleagues.
Sean Smith, described as a State Department information management officer, was the other man killed.
Mr Shaqur blamed the attack on "criminals" and said anger against the film could not justify the violence.
Libyan Deputy Interior Minister Wanis al-Sharif told reporters that those arrested had been taken from their homes on Thursday but gave no further details about the suspects.
No group has said it carried out the attack and Mr Sharif said it was too early to say if those arrested belonged to a particular organisation. He has suggested the attackers may have had help from inside the country's security services.
The film which has aroused so much anger was shot in the US and clips translated into Arabic were posted online earlier this year. It depicts the Prophet Muhammad as a womaniser and the bloodthirsty leader of a ragtag group of men who enjoy killing.
However, the film's exact origin and the motivation behind its production remain a mystery.
Some of the actors involved have since condemned the film, saying they had no idea it was to be used as anti-Islam propaganda.