Syria envoy Lakhdar Brahimi on first visit to Damascus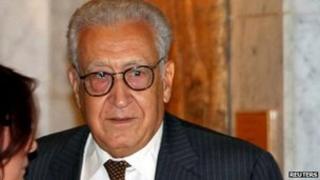 The UN and Arab League envoy to Syria, Lakhdar Brahimi, has made his first visit to the war-torn country, meeting the foreign minister in Damascus.
He will meet opposition groups tolerated by the Syrian government, and President Bashar al-Assad on Friday.
Foreign Minister Walid al-Moualem told the peace envoy that he was committed to supporting his mission, Mr Brahimi's spokesperson said.
Thousands of people have been killed in Syria since the uprising began in 2011.
On his arrival in Damascus, Mr Brahimi said: "There is a crisis, no-one denies it... It is a crisis which is deteriorating, and no-one disagrees with the need to stop the bloodshed and restore harmony."
According to Syrian state media, Mr Moualem stressed that any initiative should "focus on the Syrian people's interest".
The UN and Arab League's envoy also met Mohammed Reza Shibani, the Iranian ambassador to Syria, on Thursday. The Iranian government has been a staunch supporter of Mr Assad.
Also on Thursday, Syrian government forces carried out air strikes on Syria's commercial capital, Aleppo, activists reported.
Clashes have been reported in the western and southern parts of the city, as well as in several parts of Damascus.
When he took over the post, Mr Brahimi said bringing peace to Syria would be "nearly impossible". He has described the bloodshed there as "staggering" and the destruction as "catastrophic".
He was appointed to the role in August after Kofi Annan's peace plan for Syria failed to affect the crisis.