Rhino Season film 'rebirth for exiled Iran director'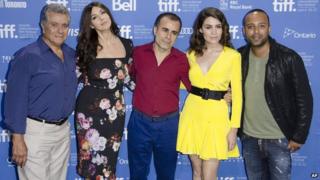 With independent filmmakers under tight restrictions in Iran, several directors and actors have sought sanctuary abroad to continue to pursue their art unfettered. The predicament was also the catalyst for one particular film which has drawn attention at the Toronto International Film Festival, as Roxana Saberi reports.
When Iranian filmmaker Bahman Ghobadi escaped from Iran three-and-a-half years ago, he kept asking himself, "Why am I alive?"
He had left his homeland, his close friends, and his production team, after Iranian intelligence agents repeatedly threatened him and suggested he "pack his suitcase and leave."
In May 2009, he moved to neighbouring Iraq and then Turkey. He joined hundreds of artists, activists, journalists, and others who have fled Iran in recent years in search of safety and freedom.
"I had a mental crisis when I left Iran," Ghobadi told the BBC in an interview at the Toronto International Film Festival. "This crisis became so severe that I felt I would die if I didn't make a film."
The result was his first film in exile, Rhino Season, which has just premiered in Toronto.
The 96-minute movie is based on the story of Sadegh Kamangar, a pseudonym for an Iranian Kurdish poet imprisoned for 27 years in Iran. When he was finally released, he learned that his captors had told his family he was dead.
"When I thought of Mr Kamangar and the suffering of other innocent Iranian prisoners, the story of this movie came to life inside me like a foetus that had to be born," Ghobadi said.
But filming the movie, which took place in Iraq and Turkey, was a struggle. "When you want to make a film abroad, you need producers and people who support you," he said. "You need a team that speaks your language."
He brought members of his production crew from Iran to help. Many asked him to keep their names out of the film's credits, fearing punishment back home because of the subject of the movie and the man who made it.
Prison term
Hardliners have accused Ghobadi, an Iranian Kurd, of advocating the separation of Iran's Kurdish regions in his Kurdish-language films - a charge he has denied.
The last movie he directed in Iran was in Persian but also irked the authorities. It was an underground movie about underground musicians challenging the regime's cultural restrictions.
In a country where filmmakers must seek government approval for their movies, from screenplays to screenings, Ghobadi would have never received permission for Rhino Season.
He also could have ended up behind bars like his colleague Jafar Panahi, an Iranian film director who has been banned from making movies for 20 years and sentenced to six years in prison for "propaganda against the state." Panahi is no longer in jail but could be forced to report there at any time.
Without such risks, Ghobadi said, this is the first time he was able to direct a film without censoring himself.
"It feels very, very good to make a film freely, to work without having to wait years for script approval, without looking over your shoulder. I see calmness in this movie. It doesn't have the nervousness of my previous films."
The man who plays the imprisoned poet in Rhino Season left Iran much earlier than Ghobadi, four months before Iran's 1979 Islamic Revolution.
Behrouz Vossoughi was one of Iran's most popular and prolific actors, having acted in more than 90 films and plays. Revolutionaries accused him of having ties to the ousted royal family; he hasn't returned to Iran since.
"I don't think they would throw me in prison if I go back now," said Vossoughi, who lives in California and remains a legend among many Iranians. "But I'm sure they wouldn't let me do the kind of work I want to do."
He believes that despite the pressures his peers are under in Iran, they are finding ways to express themselves and make award-winning films. "If they can work a bit more freely, the future of Iranian cinema will be very good."
Rhino Season marks a comeback for 74-year-old Vossoughi, who turned down many roles after leaving Iran, some because they depicted Iranians as terrorists. "I'm so glad that I held out 35 years for this role," he said, adding that he could identify with his character as someone who is robbed of his life and home.
Future hope
In Rhino Season, Vossoughi stars alongside Italian actress Monica Bellucci. She plays his devoted Iranian wife, who is also imprisoned. One of her jailors is a Revolutionary Guard who is so obsessed with her that he eats her lipstick and promises to free her if she leaves her husband.
"Some people are going to see the movie as a film against contemporary politics in Iran, but I think it is much more than that," Bellucci told the BBC.
"In the film you can see that even during the shah's time, violence and the abuse of rights also existed. So to me, the film is more about what people are capable of when they're in power, and this is a philosophical message that transcends time, politics, and place."
Despite the sombre story, limited dialogue, and ashen-shaded scenes of "Rhino Season," Ghobadi believes that the movie offers hope, just as he harbours hope for his homeland.
"I am really bothered when I see my friends facing problems back in Iran, but I tell them that not all the doors are shut. What makes me happy about this film is that through it, I can give this message that it's possible to keep working outside Iran, and we don't need to surrender when it comes to what we want to say and the path we have chosen."
The film also helped 43-year-old Ghobadi survive, he said. "I used to believe that people are only born once, but now I feel I have been reborn, like I was given a new life. I see myself as a child, full of energy and hope."
Roxana Saberi is a journalist and writer who lived in Iran from 2003 to 2009. She co-wrote Ghobadi's 2009 film No One Knows About Persian Cats.