Obama 'unable to meet' Israel PM Netanyahu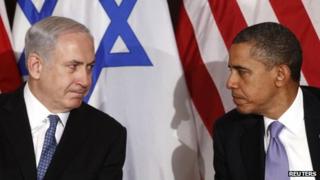 The White House has denied that President Barack Obama refused to meet Israeli PM Benjamin Netanyahu this month, amid tensions over Iran.
Mr Netanyahu's team had asked for talks during the UN General Assembly in New York, but US officials said Mr Obama's schedule would not allow it.
Mr Netanyahu has met Mr Obama on all but one of his US trips since 2009.
Earlier, Mr Netanyahu criticised the US for not being tough enough on Iran over its nuclear programme.
Western countries believe Iran is trying to develop a nuclear weapon - a claim that Tehran denies.
'Wait until when?'
US officials said the president and Mr Netanyahu were in "frequent contact" and that the Israeli leader would meet Secretary of State Hillary Clinton instead.
Mr Obama - who is in the middle of an election campaign - is due to speak at the UN General Assembly in New York on 25 September, while Mr Netanyahu will give an address on 28 September.
"They're simply not in the city at the same time," White House spokesman Tommy Vietor said.
He added: "Contrary to previous press reports, there was never any request for a meeting between the prime minister and president in Washington, nor was this request ever denied."
Mr Vietor also said that Mr Obama was not scheduled to conduct any bilaterals at the General Assembly.
The White House said in a statement later on Tuesday night that Mr Obama had just spoken with Mr Netanyahu for an hour.
"The two leaders discussed the threat posed by Iran's nuclear program, and our close co-operation on Iran and other security issues," said the statement.
"President Obama and Prime Minister Netanyahu reaffirmed that they are united in their determination to prevent Iran from obtaining a nuclear weapon, and agreed to continue their close consultations going forward."
The announcement came after Mr Netanyahu made remarks condemning other countries for failing to draw up "red lines" over Iran.
"The world tells Israel: wait, there's still time. And I say: wait for what? Wait until when?" he told a news conference on Tuesday in Jerusalem with Bulgarian Prime Minister Boyko Borisov.
"Those in the international community who refuse to put red lines before Iran don't have a moral right to place a red light before Israel," he added.
Mr Netanyahu has described Iran as "the greatest threat to world peace", and the ratcheting up of his rhetoric is prompting speculation over the possibility of conflict between the two countries.
Israel's Haaretz newspaper described the prime minister's comments as "an unprecedented verbal attack on the US government", on its website.
Washington argues that deadlines are counterproductive and wants to allow more time for diplomacy and sanctions to take effect. Officials have said they are against any unilateral military action by Israel.
Iran says its nuclear programme is only for civilian purposes, saying it needs it for energy and medical needs.