Palestinian PM unveils measures to calm protests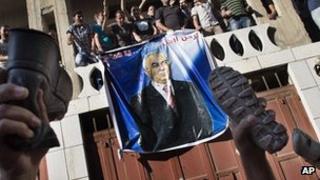 The Palestinian Authority is to cut fuel prices and the salaries of top officials after days of protests across the West Bank over rising living costs.
As Prime Minister Salam Fayyad made the announcement, hundreds of protesters gathered outside his Ramallah offices.
Strikes and violent protests have paralysed parts of the West Bank for the past six days.
Last week Mr Fayyad said he would not hesitate to resign if the Palestinian people demanded it.
Protesters accuse Mr Fayyad of worsening poverty in the West Bank.
Following a cabinet meeting on Tuesday, Mr Fayyad said that the price of fuel "will be returned to what it was in late August, starting tomorrow [Wednesday]".
Fuel recently hit 8.5 shekels ($2.12; £1.33) per litre.
"There will be additional cuts made to the expenses of ministries and government institutions with the exception the ministries of health, education and social affairs," he said.
Mr Fayyad - an economist and an independent politician - also announced cuts to the salaries and expenses of senior officials and ministers.
"We will not commit to any new ministerial expenses for travel, rent, transportation or fuel until we get through this financial crisis."
The prime minister also promised that government workers would be paid part of their overdue August salaries on Wednesday, and the rest later this week, AFP news agency reported.
Strikes
Anti-government protests have been staged daily for the past week and turned violent in some parts of the West Bank on Monday, with demonstrators smashing windows of government buildings and clashing with police.
Police in Hebron used tear gas and batons to disperse an angry crowd, but there were no reports of injuries.
On Monday, widespread strikes also paralysed much of the West Bank.
Palestinian President Mahmoud Abbas has said that the protesters' demands are "justified" and that a "Palestinian Spring has begun".
Analysts say a fall in foreign aid has created a funding crisis for the Palestinian Authority, with debts of $1.5bn (£941m) and a cash shortfall of $500m.
It has been forced to delay paying salaries to about 153,000 civil servants several times this year.
A fifth of the West Bank's 2.5 million Palestinians are also unemployed.