Tariq al-Hashemi: Turkey 'will not hand over' Iraq VP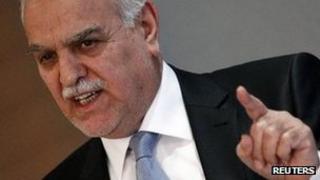 Turkey will not send Iraqi Vice-President Tariq al-Hashemi back to Iraq, where he has been sentenced to death in absentia, Prime Minister Tayyip Erdogan has said.
Hashemi, who has been in Turkey since April, was found guilty of running death squads by a court on Sunday.
He was the most senior Sunni Muslim in the predominantly Shia government until he was charged last December.
Mr Erdogan has said Turkey will host Hashemi "as long as he wants".
Speaking at a news conference in Ankara, Mr Erdogan said it was "out of the question" that Hashemi had been involved in the crimes he has been found guilty of, insisting: "We will not hand him over."
Hashemi has dismissed the case against him as politically motivated.
Speaking on Monday, he said he would be willing to face a "fair trial", but that the Iraqi courts were under Shia Prime Minister Nuri al-Maliki's influence.
He accused Mr Maliki's government of corruption, discrimination, and of fuelling sectarianism.
He said the US was "turning a blind eye" because of the forthcoming US presidential elections.
Instability
The Iraqi government issued a warrant for Hashemi's arrest on 19 December last year, the day after the last US troops left the country.
Hashemi first took refuge in the Kurdish north of the country, before fleeing to Qatar and Saudi Arabia, and then on to Turkey.
The warrant accused him of orchestrating terror attacks on officials and security forces.
Prosecutors say he was involved in 150 killings and some of his former bodyguards told the court that he had ordered a number of murders.
The case has sparked political instability in Iraq, and prompted an upsurge in violence.
There were more than 20 attacks across Iraq on Sunday, killing 92 people and injuring 350.
Correspondents say the fragile coalition has appeared to be in danger of collapse since the arrest warrant for Hashemi was issued last year.