Bahrain: Nabeel Rajab appeals against conviction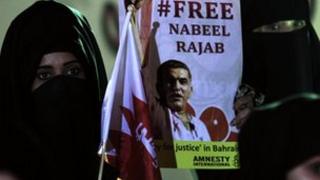 Bahraini human rights activist Nabeel Rajab has appeared in court to appeal against a three-year jail sentence for organising illegal protests.
Rajab was convicted in August of taking part in "illegal gatherings". He was later cleared of defamation.
Rajab told the court on Monday that he had been mistreated in prison but said he had not been beaten, a government official told the BBC.
Bahrain has come under international pressure to release him.
The case was adjourned and another hearing was scheduled for 27 September, reports said.
A prolific Twitter user with more than 170,000 followers, Rajab is Bahrain's best-known jailed blogger.
The president of the Bahrain Centre for Human Rights, he was jailed for inciting protests by using social networking sites.
Rajab, 48, is a fierce critic of the Bahraini authorities and led anti-government protests which erupted in March 2011.
He was charged but later acquitted of libelling the town of Muharraq, after tweeting that the prime minister should step down, and that Muharraq residents had only welcomed him during a visit there because he had offered them subsidies.