UN nuclear watchdog 'frustrated' over Iran access delays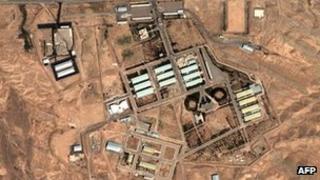 The UN's nuclear watchdog has urged Iran to grant inspectors immediate entry to the Parchin military site, calling delays in access "frustrating".
The complex is suspected of being used for tests related to nuclear weapons - a claim Iran denies.
"We consider it essential for Iran to engage with us without further delay," the head of the International Atomic Energy Agency (IAEA) said Monday.
Inspectors trying to visit Parchin have repeatedly been refused entry.
Iran has been accused of delaying access in order to buy time and remove evidence of experiments related to nuclear weapons.
The IAEA's Yukiya Amano said the agency and Iran had made no concrete progress since talks began in January.
Satellite images taken at Parchin "further strengthen our assessment that it is necessary to have access to the location without further delay in order to obtain the required clarifications," Mr Amano said at an IAEA board meeting.
"Without Iran's full engagement, we will not be able to start the process to resolve all outstanding issues, including those concerning possible military dimensions to its nuclear programme."
High explosives
The complex at Parchin, south of Tehran, is dedicated to the research, development and production of ammunition, rockets and explosives.
Concerns about its possible role in Iran's nuclear programme emerged in 2004, when reports surfaced that a large explosives containment vessel had been built there to conduct hydrodynamic experiments.
The IAEA has warned that hydrodynamic experiments, which involve high explosives in conjunction with nuclear material or nuclear material surrogates, are "strong indicators of possible weapon development".
In 2005, IAEA inspectors were twice given access to parts of Parchin and were able to take several environmental samples.
A report issued in 2006 noted that they "did not observe any unusual activities in the buildings visited, and the results of the analysis of environmental samples did not indicate the presence of nuclear material".
But suspicions about Parchin persisted and the IAEA has repeatedly sought to visit the facility again. The latest attempt came in February, when inspectors were turned away despite "intensive efforts".
Iran says it needs nuclear material for energy and medical needs.