Syria rockets from Albu Kamal kill girl in Iraq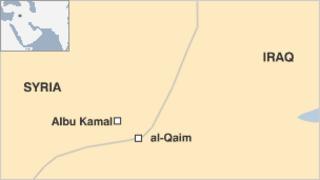 Rockets fired from Syria hit an Iraqi border town, killing a young girl, officials said on Saturday.
Syrian rebels have been fighting government forces for control of an airfield outside the town of Albu Kamal, near the border with Iraq.
The Iraqi interior ministry said four rockets fired from there hit the western town of al-Qaim.
It is one of the worst incidents of cross-border violence with Iraq since the conflict began in March 2011.
One of the rockets smashed through the wall of a house in al-Qaim, killing a girl inside.
"She was sitting on my lap just before we heard the rocket. I knew she was dead immediately after the explosion," the girl's father, Firas Attallah, told the Reuters news agency.
Iraqi role
Fighting began around Albu Kamal on Wednesday, when insurgents attacked Hamdan military airport, the pro-rebel Syrian Observatory for Human Rights told the AFP news agency.
It is not clear which side fired the rockets.
But one Iraqi military official told the Reuters news agency it was probably rebels from the Free Syrian Army.
He said Iraqi border troops had clashed with rebel forces two days earlier after they tried to stop smugglers getting supplies to rebels.
A statement from the Iraqi interior ministry said: "Our brave forces are ready to... respond in the event of a repetition such as this aggression."
Iraq has refrained from openly taking sides in the Syrian conflict.
Iraq's predominantly Shia Muslim government is close to the Shia government in neighbouring Iran, Syria's closest regional ally.
The Syrian government of President Bashar al-Assad is mostly Alawite, a heterodox offshoot of Shia Islam, while the FSA is largely Sunni Muslim.
But Iraq has denied reports that it is allowing Iran to use its airspace to ship weapons to Syria.
Thousands of Syrian refugees have crossed the border at al-Qaim, in Iraq's western al-Anbar province.