Army in Egypt reports 32 deaths in Sinai crackdown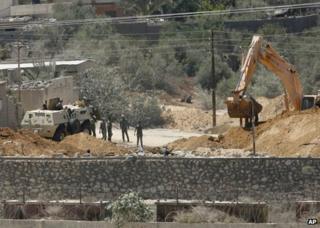 Egyptian armed forces have killed 32 "criminal elements" since launching an operation against militants in Sinai, a military spokesman has said.
They also made 38 arrests and destroyed 31 smuggling tunnels on the border with the Gaza Strip, said Col Ahmed Mohammed Ali in the capital, Cairo.
Troops went in after 16 soldiers were killed by militants on 5 August.
Col Ali said the operation did not violate the peace treaty with Israel which demilitarised parts of Sinai.
Israeli officials have privately voiced concern about the Egyptian military build-up.
Since 1982, when Israeli troops withdrew, the Sinai peninsula has remained under a special security regime mandated by the peace treaty the two countries signed in 1979, which restricts Egypt's freedom of military action.
'Co-ordinated' operation
The August attack was blamed on Islamist militants trying to fight their way into neighbouring Israel. The Israelis later reported finding the bodies of eight dead militants after repelling the assault.
The Egyptian army spokesman said the operation in Sinai, which includes the deployment of tanks and helicopters, would continue until its goals had been fully achieved.
"Egypt has co-ordinated with the Israeli side about the presence of the armed forces in Sinai," he said.
"They know very well about our forces in Sinai. The presence of the armed forces in all of Sinai is not considered a breach in the peace treaty between Egypt and Israel. We always confirm our commitment to the international agreements which does not affect national security."
Col Ali was quoted by AFP news agency as saying that there were 225 main tunnels into Gaza.
Earlier, Egyptian state media reported that 45 people had been detained in northern Sinai.