Bomb explosions in Damascus 'kill at least five'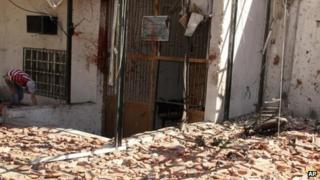 Two bombs have struck the Syrian capital Damascus, according to state media and opposition activists.
A motorcycle bomb in the Rukn al-Din area killed at least five members of the security forces, state TV said.
Hours later, a car bomb struck the district of Mazzeh, near the Ministry of Information. It is not clear whether there were any casualties.
The blasts came as opposition activists said 55 people had been killed in fighting across the country on Friday.
Earlier on Friday the head of the international Red Cross said his talks with President Bashar al-Assad had been "positive".
Peter Maurer said they had focused on the need to reduce barriers to delivering aid and ensure aid workers could gain access to detainees.
"What we have today is commitments, what we have is a mechanism to implement those commitments," he added. "But we will have, of course, to witness whether commitments and mechanisms are producing results."
UN worker killed
Officials said the first bomb targeted people as they left a mosque after Friday prayers in Rukn al-Din, a residential area not far from the centre of Damascus.
But the Syrian Observatory for Human Rights reported that the blast had been aimed at a security patrol.
In addition to the five dead, six members of the security forces were wounded, several of them seriously, the UK-based activist group said.
The Associated Press said the bomb went off across the street from the mosque and damaged a clinic as well as six cars.
Pictures on Syrian state TV, apparently from the site of the second explosion in Mazzeh, showed firefighters and security forces tending several scorched and mangled cars as passersby looked on.
Windows in nearby buildings had also been blown out.
There have been a series of bombings in the capital since the uprising against President Assad began in March 2011. Officials have blamed "terrorists". Opposition activists, however, maintain that the security forces planted the bombs to discredit the peaceful protesters.
Elsewhere in Damascus on Friday, activists reported heavy shelling by government forces in the southern districts of Daf al-Shouk, Tadamon, and the densely-populated Yarmouk Palestinian refugee camp.
The Local Co-ordination Committees, an activist network, said at least 16 people had been killed in the violence, including five in Yarmouk. On Thursday, a staff member of the United Nations Relief and Works Agency (UNWRA) and his son were killed in their home when it was hit by a shell.
"UNRWA deplores the tragic loss of life and expresses the view that these outcomes could have been avoided," a statement said.
'Non-lethal assistance'
The European Union has said it will increase humanitarian aid to Syria by an extra 60m euros ($76m;£48m), bringing the total spent by the bloc on relief efforts during the crisis to more than 200m euros.
The extra money was pledged at a meeting of EU foreign ministers in Cyprus on Friday.
At the meeting UK Foreign Secretary William Hague also expressed determination to help anti-government fighters in Syria by working around an EU arms embargo on Syria.
"It's not possible or legal for any EU nation to send weapons to anybody in Syria and therefore our chosen route - and it's the same route for France and the United States - is to give non-lethal assistance and we're doing that," Mr Hague told reporters.
Mr Hague also said that Britain was considering sending some form of protective clothing which does not breach the terms of the EU embargo.
Earlier on Friday, the head of the International Committee of the Red Cross (ICRC) in Geneva revealed that he had visited rural areas around Damascus earlier this week and been shocked by "horrific accounts of armed attacks".
These left him in no doubt that Syria was engulfed in civil war since "all features of armed conflict are unfolding in front of us", he said.
"The needs are growing while the violence is expanding. Many men, women and children who could be saved are dying on a daily basis because they lack access to medical care."
The UN refugee agency said at least 246,267 Syrians had now fled to neighbouring countries. Of those, 81,000 are registered with the UN in Jordan, more than 78,000 in Turkey, almost 65,000 in Lebanon and nearly 22,000 in Iraq.
There are also thought to be more than 1.2 million internally displaced people in Syria, and 2.5 million in need of humanitarian assistance.
Meanwhile, Syrian Deputy Foreign Minister Faisal Mekdad accused Egyptian President Mohammed Mursi of "signing the death warrant" for his proposed meeting of a quartet of regional powers to discuss solutions to the crisis in Syria.
On Wednesday, Mr Mursi warned President Assad that he had to "take lessons from recent history" and step down before it was too late.