Palestinian PM 'willing to resign' after protests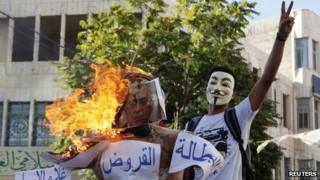 The Palestinian Authority's prime minister has said he is willing to resign, after protests in the West Bank against rising living costs.
Salam Fayyad said he would not hesitate to step down if there was a "real public demand".
Protesters burnt an effigy of Mr Fayyad in Hebron on Tuesday after the price of fuel and food increased.
President Mahmoud Abbas has said their demands are "justified" and that a "Palestinian Spring has begun".
"We agree with what the people are saying and what they want," he said in a speech at a meeting of the Arab League in Cairo. "We are striving to do everything in our power to lower prices."
The president did not express his support for Mr Fayyad in his remarks.
Funding crisis
In addition to demanding the prime minister's resignation, the hundreds of people who took part in this week's protests accused Mr Fayyad of corruption and of instituting policies harmful to the poor.
They also demanded that the costs of basic goods be reduced, particularly fuel which recently hit 8.5 shekels ($2.12; £1.33) per litre.
"If there is a real public demand that I resign, and if it would solve the economic problems, then I would not hesitate to step down, nor would I delay it," Mr Fayyad was quoted by the Reuters news agency as telling reporters in the city of Ramallah on Thursday.
"Despite the fact that some of the [protesters'] slogans hurt me deeply, freedom of expression is guaranteed," the prime minister added.
With foreign aid levels falling, the Palestinian Authority is facing a funding crisis, with debts of $1.5bn (£941m) and a cash shortfall of $500m.
This forced it to delay paying wages to some 153,000 civil servants several times this year. A fifth of the 2.5 million Palestinians in the West Bank are also unemployed.
A World Bank report noted in July that the manufacturing and agriculture sectors had shrunk despite GDP growth of 7.7% between 2007 and 2011, and some economists say it could be as low as 3 to 4% this year.
The World Bank said the security restrictions imposed by Israel continued to limit growth, but there was little that could be done until there was a permanent peace deal. Direct talks have been suspended since 2010.