Egypt troops arrest dozens in Sinai crackdown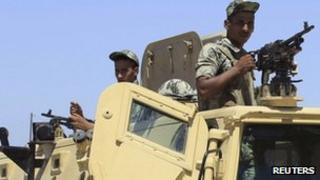 Egyptian security forces have arrested a further 99 people in a crackdown launched after last month's killing of 16 soldiers in the Sinai Peninsula.
State media said 54 fugitives had been detained in Ismailiya, a city on the Suez Canal, while 15 fugitives and 30 suspects had been held in North Sinai.
Interior Minister Ahmed Gamal al-Din also said seven suspects in the border guards' deaths had been identified.
One of them was an Egyptian member of a dormant local jihadist cell, he said.
Mr Gamal al-Din did not mention the nationalities of the other suspects in his interview with the al-Akhbar newspaper, nor say if any of the seven had been detained.
He said security forces were still trying to find members of "disparate" militant groups, some of whom followed the "takfiri" doctrine, under which radical Islamists believe Muslim society has reverted to a state of unbelief, legitimising rebellion against the state and attacks on Muslims.
Joint raids by the army and police have seen tanks, armoured fighting vehicles, attack helicopters and thousands of troops deployed.
Last week, the defence ministry said it would broaden its campaign in Sinai and that forces would be redeployed to "hunt for terrorist elements".
The army was reported to have withdrawn 20 tanks from the central sector of Sinai towards Suez on Tuesday after Israeli officials privately voiced concerns about the build-up of troops and heavy weapons.
Since 1982, when Israeli troops withdrew, Sinai has remained under a special security regime mandated by the peace treaty the two countries signed in 1979, which restricts Egypt's freedom of military action.
An Egyptian military official told Reuters news agency that the Sinai security operation was "entering a new phase that requires different equipment capable of facing and handling the situation".