Israel in partial concession on Eritrean migrants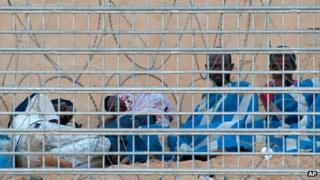 Israel has agreed to allow entry to three out of 21 Eritrean migrants who have been stuck on the country's desert border with Egypt for a week.
Under the deal the remaining migrants will return to Egypt.
Israel's initial refusal to grant any of the group admittance triggered court action by one rights group and intense criticism from bodies including the UN.
Israel insisted it would "continue the effort to return infiltrators to the countries of their origin".
The three Eritreans granted entry are two women and one 14-year-old boy. Those to be returned are all men, reports say.
They had been stranded since 30 August, apparently in between new and old fences constructed by Israel at the border.
Soldiers said they had provided them with food, water and shelter from the sun, but human rights groups said they were prevented from visiting the group.
Israeli statistics suggest there are some 60,000 Africans living in the country illegally, mainly from Sudan and Eritrea.
Petition postponed
Israel had initially refused to grant any access, with Interior Minister Eli Yishai explaining that "if we weren't steadfast, there would be a million people here".
This triggered a wave of criticism, with the UN refugee agency, the UNHCR, saying Israel had an obligation as a signatory to the UN refugee convention to allow access to asylum seekers and calling its refusal to do so "highly irresponsible".
The Israeli campaign group We Are Refugees lodged a petition calling on the state to allow the migrants entry, arguing that to send them back to Egypt would make them vulnerable to people smugglers.
The High Court considered the matter on Thursday but had postponed a decision.
Omar Shatz, an attorney working for We Are Refugees, told AFP news agency the Israeli decision to allow entry to three of the migrants, under humanitarian grounds, was "a way to shoot down the petition".
"Legally, it was obvious the state would have had to examine their asylum requests," he said, adding that the whole group should have been permitted entry and was still in violation of the 1951 UN refugee convention.
But Israel argues it is under no obligation to open its doors, saying in a statement that "there has been no determination by any international body according to which... Eritrean citizens are persecuted in Egypt or that their lives are in danger. Therefore, there is no legal obligation to allow entry to those who are near the fence."
Israeli Prime Minister Benjamin Netanyahu in a statement: "We are determined to stop the flow of the infiltrators. We have built a fence to achieve that goal... and we will continue our efforts to return the infiltrators to their countries of origin."
Many migrants seeking to enter Israel are fleeing conflict and some pay Bedouin tribesmen to lead them from Cairo through the Sinai desert into Israel.
The Israeli government has started building a 260km (160-mile) barrier on its southern border with Egypt, partly in response to the growing number of refugees.